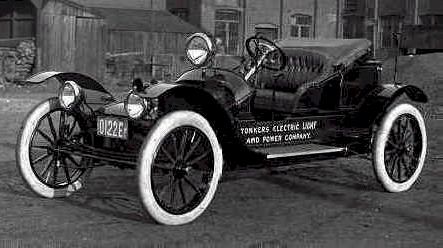 Samuel Robinson Bailey built the Bailey Electric car in Amesbury, MA. Bailey was a carriage builder who perfected steam wood-bending machinery for carriage wheels around 1870. He was the first in the industry to use windshields on carriages.
Depending on where you are getting your information, the life of this company varies, from how it got started, to what years the cars were built. According to the history of the Bailey family which should be fairly reliable information, the first Bailey Electric car was built in 1898, but the engine could not carry the heavy battery required. During that time, Thomas Edison was working on a new lightweight and more reliable battery that could be carried by the car. The photo in the middle shows Thomas Edison with the Bailey Electric after a 1000 mile endurance run. The ad at the bottom is from 1909.


The car was not ready for serious production until 1907 so even though the first car was built in 1898, the production date would be 1907. Years of experimenting with his car drained S. R. Bailey's finances and Bailey was forced to sell shares to raise the necessary capital to build the cars. In 1907 the company name was changed to S. R. Bailey & Co., Inc. I have not seen any ads, diaries, or a photo to support the car was produced later than 1915.
The Bailey Electric cars featured attractive bent laminated wood, chain drive, a General Electric motor, and an Edison battery. The slogan of the Bailey Electric was "Fast enough, far enough."  In 1914 the company's Model "F" was said to give 125 miles per charge and an average speed of 20 miles per hour, with a maximum speed being in the neighborhood of 27 miles per hour.
http://www.mychurchgrowth.com/blog/category/1929-pontiac/
http://www.mychurchgrowth.com/blog/category/1929-pontiac/1929-vehicles/
http://www.mychurchgrowth.com/blog/category/1929-pontiac/1929-orphan-vehicles/