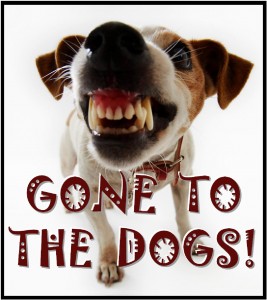 by Rev. Rick Robinson
When someone speaks of something going to the dogs, it usually annotates a distinct turn for the worse. Have you ever felt like your life was going to the dogs? How did those lovable dogs get a bad rap for a saying like that anyway? Dogs were not always as popular as they are today. There was a time when calling someone a dog was a serious insult–in fact; the Bible is full of contemptuous references to dogs.
The book of Revelation places dogs on a list of outcast.
Blessed are those who wash their robes, so that they may have the right to the tree of life, and may enter by the gates into the city. Outside are the dogs and the sorcerers and the immoral persons and the murderers and the idolaters, and everyone who loves and practices lying.
The psalmist compares his enemies to dogs. Keep in mind that the narrowness and the darkness of the streets at night, along with the odd corners, made the cities vulnerable to violence. Evil people could hide easily to wait on unsuspecting victims. Dogs roamed the area looking for food with howling and growling.
They return at evening, they howl like a dog, And go around the city. They wander about for food and growl if they are not satisfied.
Many of the religious Jews would refer to Christians as dogs, and Paul dished it right back at them as he also mentions his list of achievements from their standards.
Beware of the dogs, beware of the evil workers, beware of the false circumcision; for we are the true circumcision, who worship in the Spirit of God and glory in Christ Jesus and put no confidence in the flesh, although I myself might have confidence even in the flesh. If anyone else has a mind to put confidence in the flesh, I far more: circumcised the eighth day, of the nation of Israel, of the tribe of Benjamin, a Hebrew of Hebrews; as to the Law, a Pharisee; as to zeal, a persecutor of the church; as to the righteousness which is in the Law, found blameless. But whatever things were gain to me, those things I have counted as loss for the sake of Christ.
In volume 6 of his books of Antiquities, the famous ancient historian Josephus gives account of a conversation between David and Goliath.
Accordingly he laid by the armor, and taking his staff with him, and putting five stones out of the brook into a shepherd's bag, and having a sling in his right hand, he went toward Goliath. But the adversary seeing him come in such a manner, disdained him, and jested upon him, as if he had not such weapons with him as are usual when one man fights against another, but such as are used in driving away and avoiding of dogs; and said, "Dost thou take me not for a man, but a dog?" To which he replied, "No, not for a dog, but for a creature worse than a dog." This provoked Goliath to anger, who thereupon cursed him by the name of God, and threatened to give his flesh to the beasts of the earth, and to the fowls of the air, to be torn in pieces by them. To whom David answered, "Thou comest to me with a sword, and with a spear, and with a breastplate; but I have God for my armor in coming against thee, who will destroy thee and all thy army by my hands; for I will this day cut off thy head and cast the other parts of thy body to the dogs; and all men shall learn that God is the protector of the Hebrews, and that our armor and our strength is in his providence; and that without God's assistance all other warlike preparations and power are useless."  — Flavius Josephus
In the book of Kings we read that King Ahab wanted a piece of ground that was near his palace. He asked the owner to sell it to him, but he was not willing to sell because his father had given it to him before he died.  
Now it came about after these things that Naboth the Jezreelite had a vineyard which was in Jezreel beside the palace of Ahab king of Samaria. Ahab spoke to Naboth, saying, Give me your vineyard, that I may have it for a vegetable garden because it is close beside my house, and I will give you a better vineyard than it in its place; if you like, I will give you the price of it in money." But Naboth said to Ahab, "The Lord forbid me that I should give you the inheritance of my fathers."
Ahab was so upset about it that he would not even eat. The King's wife, Jezebel, told him that he need not be troubled, for she could get the land for him. She cooked up a scheme to have Naboth killed by stoning. 
But Jezebel his wife came to him and said to him, "How is it that your spirit is so sullen that you are not eating food?" So he said to her, "Because I spoke to Naboth the Jezreelite and said to him, 'Give me your vineyard for money; or else, if it pleases you, I will give you a vineyard in its place.'But he said, 'I will not give you my vineyard.' Jezebel his wife said to him, "Do you now reign over Israel? Arise, eat bread, and let your heart be joyful; I will give you the vineyard of Naboth the Jezreelite." So she wrote letters in Ahab's name and sealed them with his seal, and sent letters to the elders and to the nobles who were living with Naboth in his city. Now she wrote in the letters, saying, "Proclaim a fast and seat Naboth at the head of the people; and seat two worthless men before him, and let them testify against him, saying, 'You cursed God and the king.' Then take him out and stone him to death." 
God was so displeased with the actions of this couple, he told Ahab the dogs would lick his blood from the very spot his victim died, and the dogs would eat Jezebel. This was understood in that day as the fate of the most despicable people. Dogs were often fed the remains of people who were executed and enemies of the King. The bodies were thrown outside the city for the dogs to eat. 
Of Jezebel also has the Lord spoken, saying, The dogs will eat Jezebel in the district of Jezreel. 
When he came in, he ate and drank; and he said, "See now to this cursed woman and bury her, for she is a king's daughter." They went to bury her, but they found nothing more of her than the skull and the feet and the palms of her hands. Therefore they returned and told him. And he said, "This is the word of the Lord, which He spoke by His servant Elijah the Tishbite, saying, 'In the property of Jezreel the dogs shall eat the flesh of Jezebel;and the corpse of Jezebel will be as dung on the face of the field in the property of Jezreel, so they cannot say, "This is Jezebel." 
Not all dogs were ruffians and misfits in that day. Many shepherd's would lead sheep, fighting off any predators with the use of a sling and stones in front, while his dogs brought up the rear, ensuring that the sheep were not attacked by wild animals and keeping them in pace with the shepherd. Isaiah made reference to this double protection when he delivered his message from God. 
But you will not go out in haste, Nor will you go as fugitives; For the Lord will go before you, And the God of Israel will be your rear guard. 
Solomon writes a message of hope to those who feel life has gone to the dogs, placing a lion at the top of animals in nature (King of the jungle?) and a dog at the bottom of the animal kingdom. 
For whoever is joined with all the living, there is hope; surely a live dog is better than a dead lion. 
So…do you feel like your life has gone to the dogs? Are your dreams wasting away? There is hope for you, no matter how bad you think your life is right now. Honor the Lord with your life and actions. Don't let possessions control your actions as Ahab and Jezebel did. Possessions won't bring you lasting peace or make you happy for long. Only a personal relationship with Jesus Christ can provide what you truly need. Place your trust in the God who will protect you from all sides and keep you on pace with Him. 
Copyright Church Growth Associates, Inc.