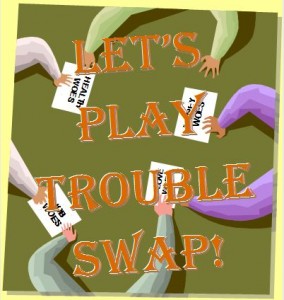 by Rev. Rick Robinson
Everyone has some kind of trouble to deal with. What if there was a reality show called "Trouble Swap!" I bet you can think of a few people you would not like to swap your trouble with. There are even more people suffering in silence that you know nothing about. There are people right now that may wish they could have you as the other contestant on "Trouble Swap!"
Is that hard to believe? Do you feel like nobody cares what trouble you're in, and everyone ignores the trouble you are having as though it were trivial? When you call the counseling center, does your call get put on hold with the 1965 song by The Fortunes "You've Got Your Troubles (I've Got Mine)" playing.
Each trial we go through brings with it the opportunity to testify to the reality of God's presence in our lives, or the opportunity for us to blow the testimony of His gospel. Our real problems come when we refuse to trust in the reality of God's presence and power.
Are we intellectually dictating to God what we intend for Him to make of us, searching through the Bible to back up our demands? No–we must learn the discipline of submitting our intelligence (whatever we have) and our reasoning to Jesus Christ. The reality of God's presence is not dependent on the evidence of a situation, but on His word. The unseen solution is much greater than the seen situation.
Now faith is the assurance of things hoped for, the conviction of things not seen. 
You can see the unseen is greater than the seen by looking at this passage using the original Greek words. Faith is pistis–meaning conviction of the truth, assurance is hupostasis—meaning firm foundation, conviction is elegchos—meaning proof and things is pragma—meaning an accomplished fact. If you read Hebrews 11:1 in that light, this is what it says.
Now conviction of the truth is the firm foundation of things hoped for, the proof of accomplished facts not seen.
How beautiful and simple that is. We must have God's word alive in us and walk in His light to deal effectively with our problems. Otherwise, you may as well hope for the best on a show called Problem Swap. The choice is yours. Are you spending time in God's word to increase your conviction of the truth (faith) or just hoping for the best?
So faith comes from hearing, and hearing by the word of Christ.
This is from the New American Standard Bible, some versions read "by the word of God." The word of Christ is a phrase that means hearing and learning about Jesus–which is the purpose of the word of God. In other words, conviction of the truth comes by learning about Jesus. Jesus Christ is everything to me. My eternal hope and my strength for the problems I cannot swap away. The Apostle Paul knew he could not swap away, or even pray away some of his problems.
Because of the surpassing greatness of the revelations, for this reason, to keep me from exalting myself, there was given me a thorn in the flesh, a messenger of Satan to torment me—to keep me from exalting myself! Concerning this I implored the Lord three times that it might leave me. And He has said to me, "My grace is sufficient for you, for power is perfected in weakness." Most gladly, therefore, I will rather boast about my weaknesses, so that the power of Christ may dwell in me. Therefore I am well content with weaknesses, with insults, with distresses, with persecutions, with difficulties, for Christ's sake; for when I am weak, then I am strong.
I am not saying we should not pray about our problems–we should. Many of them are self inflicted, and many may not be as bad as they seem, especially in light of the wide array of trouble swap contestant wannabes. One thing that all problems have in common is that God has allowed them. When things do turn around for us we must not then have an "I'll take it from here!" attitude with God. Complete reliance on Jesus Christ is the standard of living for the Christian. We must strive not to walk in the light of our experience, (or someone else's) but in the light of God's word.
Do you have this almighty Christ, or just the attributes and experiences of a believer? There must be total abandonment to Christ for us to obtain true peace through our problems. Jesus loves you and gave his life for you that you can have an eternal relationship with him. Don't let your problems cut you off from the solution God has provided. Religion by itself, will display attributes only as deep as experience can take you–but a relationship with Christ will show you the unseen is much greater than the seen.
Who will separate us from the love of Christ? Will tribulation, or distress, or persecution, or famine, or nakedness, or peril, or sword? Just as it is written, For Your sake we are being put to death all day long; We were considered as sheep to be slaughtered." But in all these things we overwhelmingly conquer through Him who loved us. For I am convinced that neither death, nor life, nor angels, nor principalities, nor things present, nor things to come, nor powers, nor height, nor depth, nor any other created thing, will be able to separate us from the love of God, which is in Christ Jesus our Lord.
For our light and momentary troubles are achieving for us an eternal glory that far outweighs them all. So we fix our eyes not on what is seen, but on what is unseen. For what is seen is temporary, but what is unseen is eternal.