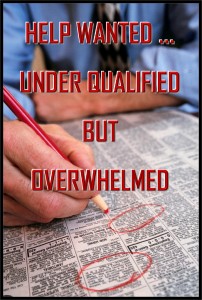 by Rick Robinson
Did you ever feel like God has call waiting, kind of like your telephone, and He switches between the calls He wants to talk to—and you're the one on hold? Here you are in the most difficult of situations, and God doesn't seem to be concerned about it at all. If this description fits your life right now, you and God are in a great place to help each other. Yes—I said help each other. Let me explain. There are scores of stories in the Bible to illustrate this, but I have selected accounts of Moses as an example. 
God called upon Moses to help deliver the people out of Egypt. God did not need Moses, any more than He needs us, but He loves working together with us. He is not cold and impersonal, but a relationship oriented God. Trusting us with a task is one of the ways God draws us closer together. Even as God ask Moses to participate in the deliverance of His people, Moses feels under qualified.
"Therefore, come now, and I will send you to Pharaoh, so that you may bring My people, the sons of Israel, out of Egypt." But Moses said to God, "Who am I, that I should go to Pharaoh, and that I should bring the sons of Israel out of Egypt?"
God has great patience with Moses, showing Him miracles and proving His power, yet Moses continues to express his own feelings of being under qualified and overwhelmed, even begging the Lord to enlist someone else. 
Then Moses said to the Lord, "Please, Lord, I have never been eloquent, neither recently nor in time past, nor since You have spoken to Your servant; for I am slow of speech and slow of tongue." 
Have you ever made excuses about why you can't do something for God? I am a pro, but He is not impressed with that part of my resume. As Moses surrenders to "help" God with this task, we can see the relationship transformed as he transfers his trust from his own ability over to confidence in God. If you want your relationship with God to prosper, you too will have to look at the truth of His ability, not your own. 
While the people are in the desert for what should have been a short journey, disobedience sends things sideways. There is no meat and fresh produce in the desert and the people grumble wishing they had not left Egypt. Moses is found questioning his own relationship with God, because he is looking to himself for answers. Once again, Moses is feeling under qualified and overwhelmed and perhaps overlooked. Have you ever felt that way? You're in good company and not alone like you thought. 
So Moses said to the Lord, "Why have You been so hard on Your servant? And why have I not found favor in Your sight, that You have laid the burden of all this people on me? "Was it I who conceived all this people? Was it I who brought them forth, that You should say to me, 'Carry them in your bosom as a nurse carries a nursing infant, to the land which You swore to their fathers'? "Where am I to get meat to give to all this people? For they weep before me, saying, 'Give us meat that we may eat!' "I alone am not able to carry all this people, because it is too burdensome for me. "So if You are going to deal thus with me, please kill me at once, if I have found favor in Your sight, and do not let me see my wretchedness." 
Quail would migrate across the Sinai Peninsula in large numbers at certain times during the year, usually between March and April. God brought the birds over the camp of the Israelites with a great wind in the evening, and also wherever they camped for forty years, daily He dropped manna to the ground with the dew. Each family was to take what they needed with no leftovers. God made the manna unfit to eat overnight, so it was of no use trying to store up a supply. Daily trust in the Lord for provision was required. In case you wonder about it as you read, a measure of omer is about 2 liters. 
This is what the Lord has commanded, 'Gather of it every man as much as he should eat; you shall take an omer apiece according to the number of persons each of you has in his tent.' The sons of Israel did so, and some gathered much and some little. When they measured it with an omer, he who had gathered much had no excess, and he who had gathered little had no lack; every man gathered as much as he should eat. Moses said to them, "Let no man leave any of it until morning." But they did not listen to Moses, and some left part of it until morning, and it bred worms and became foul; and Moses was angry with them. They gathered it morning by morning, every man as much as he should eat; but when the sun grew hot, it would melt. Now on the sixth day they gathered twice as much bread, two omers for each one. When all the leaders of the congregation came and told Moses, then he said to them, "This is what the Lord meant: Tomorrow is a sabbath observance, a holy sabbath to the Lord. Bake what you will bake and boil what you will boil, and all that is left over put aside to be kept until morning." So they put it aside until morning, as Moses had ordered, and it did not become foul nor was there any worm in it. 
This was not the normal manna they were familiar with. It melted in the sun, it became foul overnight, and it could be worked into nutritional bread. This was not a normal substance that the people recognized, it was a miracle. 
He humbled you and let you be hungry, and fed you with manna which you did not know, nor did your fathers know, that He might make you understand that man does not live by bread alone, but man lives by everything that proceeds out of the mouth of the Lord. 
If we want to live in the provision of God and share in deep fellowship with Him, we will need to take heed of these words the Prophet Isaiah wrote. 
"For My thoughts are not your thoughts, Nor are your ways My ways," declares the Lord. "For as the heavens are higher than the earth, So are My ways higher than your ways And My thoughts than your thoughts. 
Isaiah used this timeless picture of the heavens, which is a great illustration of the wonder of our God. We cannot even imagine the things He has created. The speed of light is our basic measurement for distance in space (the heavens). Light travels at some 186,000 miles per second. That means a beam of light could travel around the earth several times in one second. We don't all own rockets, but most of us own a man made car. If you could drive your car non-stop to the sun, it would take over 160 years to get there, yet the light from the sun (God's creation) reaches us in seconds. How great is your God? Are you still looking for provision on your own standard? Are you looking for a place to serve in your own ability or still making excuses of why you will fail? God wants to provide for you, and wants your help in some capacity. Most of all, God desires an intimate relationship with you. Did you know God has given you manna (bread) from heaven? Will you scoff and complain, or expect daily supply?
So they said to Him, "What then do You do for a sign, so that we may see, and believe You? What work do You perform? "Our fathers ate the manna in the wilderness; as it is written, 'He gave them bread out of heaven to eat.' " Jesus then said to them, "Truly, truly, I say to you, it is not Moses who has given you the bread out of heaven, but it is My Father who gives you the true bread out of heaven. "For the bread of God is that which comes down out of heaven, and gives life to the world." 
You and I may be under qualified for certain things and we may be overwhelmed with others, but God is neither under qualified nor overwhelmed. His word will accomplish everything as He desires, and you are a part of that plan—we all are. 
"For as the rain and the snow come down from heaven, And do not return there without watering the earth And making it bear and sprout, And furnishing seed to the sower and bread to the eater; So will My word be which goes forth from My mouth; It will not return to Me empty, Without accomplishing what I desire, And without succeeding in the matter for which I sent it.