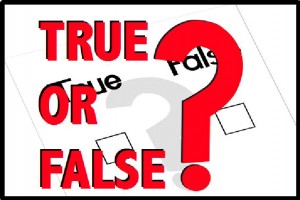 by Rev. Rick Robinson
In this information age we live in, social media groups like Facebook, Twitter, and so many others, are used daily by millions. Sometimes I see some pretty off the wall statements on these networks. In fact, if you do a Google search on a particular subject, it is likely you can turn up multiple answers for your subject. Where do you get your information today? How can you know if something is true or false? I could write about government, automobile history, or any number of other subjects that interest me here at length. The subject I choose to present here is relevant to all. It is of the spiritual nature. No, not just religion, but a genuine relationship with God. Religion is man's attempt to reach out to God. That's why there are so many different ones. Jesus Christ is God's attempt to reach out to man through a meaningful relationship–and there is only one way to have a relationship with God.
Jesus answered, "I am the way and the truth and the life. No one comes to the Father except through me.
When people think of religion or spiritual life, they most often relate the subject to a church. There is a major false concept of what the church is and what the role the church in your life is. Most Americans (even Christians) really don't understand what the relationship between the organized church and the members (the real church) should be. Six out of ten people drop out of church for at least two years of their life. Why does church become so "not relevant" to so many? One of the top reasons people drop out of church is because they have unmet expectations. Even people who attend church weekly, and get involved in the ministries, can get so wrapped up in church programs or producing ministry results that they lose sight of living in a transforming relationship with Jesus Christ.
43% of Americans say it doesn't matter what religious faith you follow because they all teach the same lessons. Where did all these experts come from, and where did they learn that? 50% of Americans believe that God loves everyone and all people will go to heaven no matter what they do. I talk to a lot of people door to door, and most people think to get to heaven, your good works must out weigh your sinful acts. When I ask them where the line you cross to tip the scale in your favor is, they don't know, yet they think they are going to make it to heaven because they never did anything that bad. For those who don't know where the line is, it takes just one sin to tip the scale against you.
For the wages of sin is death, but the gift of God is eternal life in Christ Jesus our Lord.
There are those who think to get to heaven, you have to live by the Ten Commandments, yet most of them cannot name the Ten Commandments, or even tell me where they are in the Bible, so we can look them up together. You are betting all of eternity that you are right about what happens to you when you die, don't you think it's time to stop taking opinion as fact, and discover the truth for yourself?
I write these things to you who believe in the name of the Son of God so that you may know that you have eternal life.
We must look to the original source to discover what is true. Do not take the word of a pastor (including me) over looking to the Bible for yourself.
All Scripture is God-breathed and is useful for teaching, rebuking, correcting and training in righteousness, so that the man of God may be thoroughly equipped for every good work.
In a 2011 survey, 26% of people who have been to a church before said that their life had been changed or affected "greatly" by attending church. Another 25% described it as "somewhat" life changing. 46% said their life had not changed at all as a result of going to church. Not going to church is not the obstacle to having a genuine relationship with God. Attending church is just religious activity by itself.
Out of the Americans that claim to be a Christian, 78% strongly agreed that spirituality is very important to them. On the other hand, only 18% of those same people claim to be totally committed to investing in their own spiritual development. This is the first real obstacle to Jesus Christ becoming real in your life. Be honest with yourself. Do you have a genuine commitment to investing in your spiritual life, or do you just attend church?
The next real obstacle I will list here is sin. This is second on the list not because it is not as important, but because if you do not have a commitment to developing a relationship with Christ, you will not take sin serious.
Out of those in America who consider themselves to be a Christian, 56% say they have not experienced the life God wants them to have. Only about 3% of these people say they have surrendered control of their life to God, submitted to His will for their life, and devoted themselves to loving and serving God and other people. Are there areas in your life that need to be surrendered to God? Are there areas where you need to trust Him more? The word repent does not mean to quit sinning; it means to have a change of heart. Simply showing up at church will not deal with these matters of the heart. You must have that commitment previously discussed when it comes to sin.
This brings us back to the obstacle of religious activity. 39% of people who claim to be a Christian have participated in a combination of three religious activities in the past week such as, attending church services, praying, and reading the Bible.
I am not saying that these are not important, but when it comes to the deeper expressions of a walk with Christ, participants are far and few between.  Less than 10% of these same people have talked about their faith with a non-Christian, fasted for religious purposes, or had an extended time of spiritual reflection during the past week.
Let us not give up meeting together, as some are in the habit of doing, but let us encourage one another—and all the more as you see the Day approaching.
 Most people who claim to be a Christian say that they feel comfortable and connected within their church. 80% of people first attended church because someone personally invited them. Over 70% say the reason they stay in church is because of the relationships. Only 21% of those who attend church on a regular basis believe that spiritual maturity requires a vital connection to a community of faith. Only 35% claim to have confessed their sins verbally to another believer at some point during the three months. They are just there for the fellowship. If you go to church, why are you there? If you do not, what keeps you away? Isn't it time to look to the source for real answers for your life instead of opinions formed by experience, or taking another persons word for it?
Now the Bereans were of more noble character than the Thessalonians, for they received the message with great eagerness and examined the Scriptures every day to see if what Paul said was true.
God has more for all of us all to enjoy, no matter where we are in our walk with Him today. Going to church is a good start, but working on these obstacles will put you in a position for Christ to become more real and personal in your life every day.
If you want to know how to have a personal relationship with Jesus Christ, click here.
Copyright 2012 Church Growth Associates, Inc.