William Drake, Clarence Roth, and Davis Hopson incorporated Climber Motor Corporation in Little Little Rock, AR in 1919. Factory construction began on January 9, 1919 at 1823 East 17th Street in Little Rock, AR. The Climber Motor Corporation had a vision to produce cars and trucks that would cope with the unimproved roads and terrain of the primitive road systems of the day.
Total production for the Climber Corporation was approximately 200 cars, and I have seen estimates of between 75 to 200 trucks. Regardless of the accuracy of the estimates, it was a relatively low production vehicle. Climber built two car models, the Climber Four–advertised as the Climber "Four-Forty" because of its four-cylinder, forty-horsepower engine, and the Climber Six. During early production the cars were available in three color combinations: dark maroon body with black hood and cream wheels; black body with dark green hood and red wheels; and battleship-gray body with black hood and white wheels. Later on the cars were available in solid color choices of brown, black, or Brewster green. Every Climber came with a tool bag with a set of tools consisting of a pump, a jack, a set of tire tools, a set of six wrenches, a pair of pliers, and a screwdriver. The photo above is a 1923 Climber. Below is an advertisement published in the Arkansas Gazette shortly after William Drake left the company, and it was re-organized in October of 1919. At the bottom of the ad is a photo of the factory, which I believe was placed as a historical building in 2005, so it should still be standing.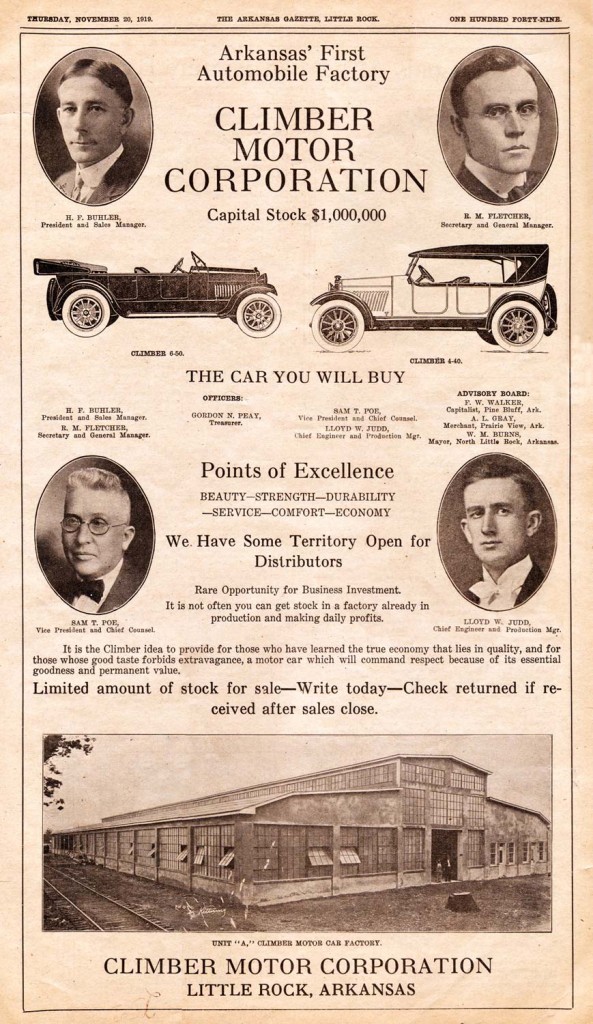 Later advertising compelled local buyers to buy the Climber to support the home state and to "Save the freight" cost. Even saving the freight, the Climber Six was priced at $2,250 as compared to a Ford Model T that was priced at $355 in 1920. In 1922 there were 96 Climber passenger cars and 8 Climber trucks licensed in Arkansas, while there were 43,772 Ford passenger cars and 5,205 Ford trucks licensed there.
Ability to obtain parts and the lack of sales brought the company to file bankruptcy early in 1924. In February 1924, the Pulaski County Court declared Climber Corporation bankrupt and put the corporation under control of a receiver. On March 17, 1924, the receiver sold the Climber holdings and the company closed. The building became a plant for an aircraft company.
http://www.mychurchgrowth.com/blog/category/1929-pontiac/
http://www.mychurchgrowth.com/blog/category/1929-pontiac/1929-vehicles/
http://www.mychurchgrowth.com/blog/category/1929-pontiac/1929-orphan-vehicles/