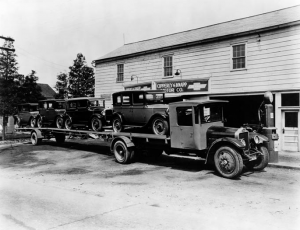 Between 1896 and the Great Depression, there were over 1800 Automobile manufacturers in the United States. In the old car hobby, these car companies that have gone out of business are referred to as orphans. In 1929, the used car buyer would have had a large selection of used cars to choose from, considering all the orphans. General Motors started buying up some of the used cars and destroying them, or shipping them to Canada to keep the new car market open in major cities. When the Canadian auto market was flooded by U.S. built cars, they outlawed shipping cars into Canada. GM purchased factories and founded GM of Canada to get cars into the country. A lot of French printed literature for 1929 GM cars is available for that reason. That is also one reason you cannot ship cars out of the U.S. very easy today. The photo above is a load of new 1929 Chevrolet models coming into the Chevy dealership.
In 1929 when my Pontiac was new, there were still over 60 Automobile makes built in the United States. I wanted to share with you a list and photos of the vehicles that were available for the new car buyer to choose from in 1929. Most of the cars on this list also became orphans. I have used real vintage photographs when I had them in my collection because I think they are more fun.
Life expectancy of an automobile in 1929 was 50,000 miles, but also due partially to the bodies built with an armored wood frame construction, few examples survived this early era of closed body production. GM used this method of construction until 1935.  The photo on the bottom is of the Chevrolet assembly plant. I will post examples of the wood frame of the 1929 Pontiac from my fisher Body manual and photos of the Fisher Body plant.
You will also note in my descriptions, many of the manufactures purchased parts from other companies and assembled them. Fisher Body built bodies for many automobile companies, including Ford, until GM purchased Fisher to assure they would have all the bodies supplied to them they would need. The Continental Motors Company produced engines for various independent manufacturers of automobiles from 1905 through the 1960s. Ford purchased his early engines from Dodge Brothers. Henry Ford was a master at cutting cost to keep the price of his car down. He designed the shipping crates and required them not to be damaged in shipping because he would use the shipping crates for the wood parts to build his cars.
I will continue to post The Automobiles of 1929 (and a few trucks) until I get them all posted. This is a hobby, not my job, so thanks for being patient.