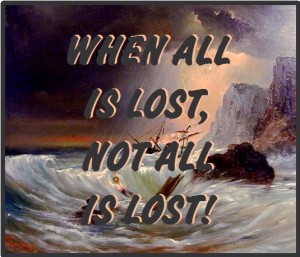 by Rev. Rick Robinson 
Did you ever feel like all hope was gone? Even when all is lost, all is not lost! Sometimes we fall short of what God expects of us, as believers. God knew we would fall short, before we even thought about it. Jesus told Peter he would deny him three times before the rooster crows and Peter argued with him about it. 
Jesus answered, "I tell you, Peter, before the rooster crows today, you will deny three times that you know me." 
Then seizing him, they led him away and took him into the house of the high priest. Peter followed at a distance. But when they had kindled a fire in the middle of the courtyard and had sat down together, Peter sat down with them. A servant girl saw him seated there in the firelight. She looked closely at him and said, "This man was with him."  But he denied it. "Woman, I don't know him," he said.  A little later someone else saw him and said, "You also are one of them." "Man, I am not!" Peter replied. About an hour later another asserted, "Certainly this fellow was with him, for he is a Galilean."  Peter replied, "Man, I don't know what you're talking about!" Just as he was speaking, the rooster crowed. The Lord turned and looked straight at Peter. Then Peter remembered the word the Lord had spoken to him: "Before the rooster crows today, you will disown me three times." And he went outside and wept bitterly.
There are several reasons we come to a state of feeling hopeless. One of those reasons is our sin. Jesus didn't love Peter any less in his failure, and He still loves you and me, no matter what we have (or have not) done. This is not an excuse for sin, but the enemy likes to beat you up with your sin. There is a difference between conviction and condemnation. When God brings your sin up, he always offers a solution. Repentance, and restitution when necessary, is all that is required for you to walk in freedom from the hopelessness that sin brings. The enemy always brings your sin up as a hopeless situation—one that has caused God to hate you. God hates our sin, but He always loves us. While we were yet sinners, Christ died for us.
But God demonstrates his own love for us in this: While we were still sinners, Christ died for us.
It is not always an intentional act of sin that causes our self inflicted pain. Just like Peter, our fear can get the best of us. God is always there for us, even when we are not thinking about it.
Our circumstances are another reason we may feel hopeless. You may be in a certain predicament because of your own foolish decisions or someone else's decisions beyond your control. That does not mean it is beyond God's control. I love this character study found in the book of Acts. As you read this excerpt, think about which of the characters you most relate to.
Much time had been lost, and sailing had already become dangerous because by now it was after the Fast. So Paul warned them, "Men, I can see that our voyage is going to be disastrous and bring great loss to ship and cargo, and to our own lives also." But the centurion, instead of listening to what Paul said, followed the advice of the pilot and of the owner of the ship. Since the harbor was unsuitable to winter in, the majority decided that we should sail on, hoping to reach Phoenix and winter there. This was a harbor in Crete, facing both southwest and northwest. When a gentle south wind began to blow, they thought they had obtained what they wanted; so they weighed anchor and sailed along the shore of Crete. Before very long, a wind of hurricane force, called the "northeaster," swept down from the island. The ship was caught by the storm and could not head into the wind; so we gave way to it and were driven along. As we passed to the lee of a small island called Cauda, we were hardly able to make the lifeboat secure. When the men had hoisted it aboard, they passed ropes under the ship itself to hold it together. Fearing that they would run aground on the sandbars of Syrtis, they lowered the sea anchor and let the ship be driven along. We took such a violent battering from the storm that the next day they began to throw the cargo overboard. On the third day, they threw the ship's tackle overboard with their own hands. When neither sun nor stars appeared for many days and the storm continued raging, we finally gave up all hope of being saved. After the men had gone a long time without food, Paul stood up before them and said: "Men, you should have taken my advice not to sail from Crete; then you would have spared yourselves this damage and loss. But now I urge you to keep up your courage, because not one of you will be lost; only the ship will be destroyed.
Are you seeking first your own desires? Have you given up all hope? Are you accepting the loss of things you thought were important, with thanksgiving to God for His mercy with the things that matter most? The enemy will always get you to focus on what could have, would have, and should have been. The only way Satan can defeat you, is to break your will to fight. Once you loose hope, everything bad that happens is traumatic, everything good that happens is too little too late, and your relationship with God (and others) will suffer along with you.
All these years after that shipwreck, the ship that was destroyed is lost and worthless in itself. The story of Paul has become part of the greatest book ever published, for all generations until Christ returns. The lives that were saved have untold stories of another opportunity for salvation before death. Only God knows the rest of the stories about the 276 passengers on board.
Storms are part of life. Sometimes we bring them upon ourselves, and sometimes they are beyond our control. Just as Jesus watched Peter deny him and just as God saw Paul in his distress, so is God watching you. Keep up your courage. Call out to Him in your distress, and realize that when all is lost, all is not lost.
Have you come to the place in your spiritual life, where you know for certain if you died today, you would go to heaven? For information about the ultimate hope, follow this link. http://mychurchgrowth.com/heaven.php 
Copyright 2012 Church Growth Associates, Inc.