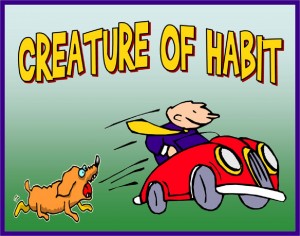 by Rev. Rick Robinson
When I was a boy growing up in rural Marion county Florida, my dog Stubby took up a sport that many rural dogs enjoyed. He chased cars. That was not a habit cats would participate in, because animals really are creatures of habit. Dogs like to chase cars and hang out the window when they go for a ride in a car. I have never seen a cat do that either, what they must think of dogs.
Are you a creature of habit? We all are, to a point. When I need to buy something for a home repair, I go to the same Lowe's store. No, they did not pay me to mention that, I am a creature of habit. We shop in the same stores, buy the same products (although pricing these days may drive business more than convenience or loyalty) and go to the same places.
Not all habits are convenience or market driven. When we go to church we tend to sit in the same area and even sit in the same seat if it is available. A few years ago, my wife and I walked into a church with a capacity about 1000. We were the only ones there, so my wife selected a seat by placing her Bible and purse on the pew. She then went to find the ladies room. While I was waiting for the pastor in the sanctuary, an elderly lady came in and discovered the purse and Bible sitting on the pew where my wife had left them. "Oh!" the lady exclaimed. "Somebody is sitting in my seat! What shall I do?" Keep in mind there are still close to 1000 available seats. Instead of sitting in one of those available seats, she picked up my wife's belongings and moved them back a pew. That is a perfect example of a creature of habit.
Habits become such a part of our life that we don't even have to think about them, they place us on sort of an auto pilot. There are good habits; we call discipline, and bad habits that cause detrimental things in our lives to happen. Although every habit is not sin, bad habits are encouraged by bad thoughts.
James 1:13-15
When tempted, no one should say, "God is tempting me." For God cannot be tempted by evil, nor does he tempt anyone; but each one is tempted when, by his own evil desire, he is dragged away and enticed. Then, after desire has conceived, it gives birth to sin; and sin, when it is full-grown, gives birth to death.
That is a good reason we should take every thought captive.
2 Corinthians 10:5-6
We are destroying speculations and every lofty thing raised up against the knowledge of God, and we are taking every thought captive to the obedience of Christ, and we are ready to punish all disobedience, whenever your obedience is complete.
For every 100 people that watch a television commercial only a certain percentage will pay attention to it. A smaller percentage will understand what the message was, and an even smaller percentage will relate to it. The percentage of people who will act on the ad by making a purchase will be determined by the repetition of presenting a relative message to the audience. That's why the chewing gum ad says it will last longer, you will kiss longer, and have whiter teeth, instead of saying it taste good for a while then you spit it out. It has to look relevant and good.
The devil is a pro at making sin look relevant and good. When God told Adam and Eve not to eat from the tree in the middle of the garden, the sales pitch began and became very persuasive. What Eve was thinking when she made a decision to sin is something we can all relate to. We are often tempted that a certain sin would be to our benefit or enjoyment.
Genisis 3:6
When the woman saw that the tree was good for food, and that it was a delight to the eyes, and that the tree was desirable to make one wise, she took from its fruit and ate; and she gave also to her husband with her, and he ate.
If we fail to take our thoughts captive, our thoughts will take us captive. When your thought process comes in obedience to Jesus Christ, it will cut off your bad habits. This is not a complex issue, it just requires one to keep the habit (or the discipline) of staying in God's word, and thinking about what you are thinking about. You are either a servant of Jesus Christ, or a prisoner of the devil. There are only two choices; the category of "neither" does not exist, except in the minds of those who lack knowledge of the truth.
2 Timothy 2:24-26
The Lord's bond-servant must not be quarrelsome, but be kind to all, able to teach, patient when wronged, with gentleness correcting those who are in opposition, if perhaps God may grant them repentance leading to the knowledge of the truth, and they may come to their senses and escape from the snare of the devil, having been held captive by him to do his will.
We must make it a habit to have fellowship with God and walk in His word. This does not mean you will never sin again. It is a matter of becoming a creature of habit when it comes to taking thoughts captive and bringing them into obedience to Him.
1 John 1:5-9
This is the message we have heard from Him and announce to you, that God is Light, and in Him there is no darkness at all. If we say that we have fellowship with Him and yet walk in the darkness, we lie and do not practice the truth; but if we walk in the Light as He Himself is in the Light, we have fellowship with one another, and the blood of Jesus His Son cleanses us from all sin. If we say that we have no sin, we are deceiving ourselves and the truth is not in us. If we confess our sins, He is faithful and righteous to forgive us our sins and to cleanse us from all unrighteousness.
The word walk used here is the Greek word peripateo (per-ee-pat-eh'-o) and it means to make one's way, progress; to make due use of opportunities. Has that become your habit yet? The good news is when we fall, there is forgiveness and hope. Are you walking in the freedom of the forgiveness of Jesus Christ, or living as a captive to sin? Allow Christ to rule in your heart and bring you into the fullness of life that no bad habit or sin can provide.