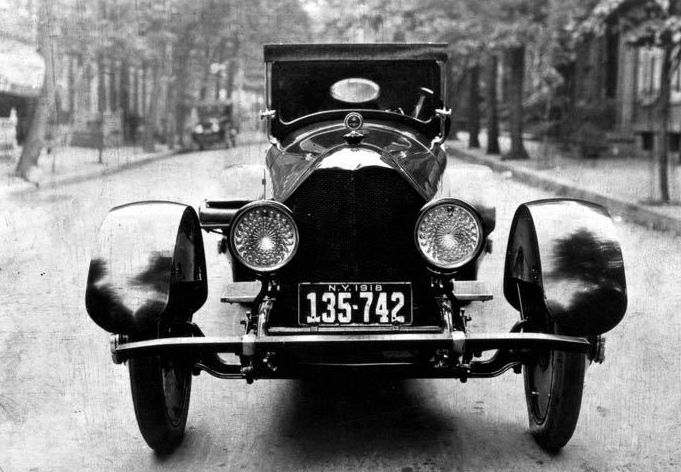 The Argonne Motor Co. located in Jersey City, New Jersey City built the Argonne. Most sources state the company was in business from 1919-1920, but I have these photos of an Argonne with 1918 NY license plates on it. This could have been a picture of the prototype; there were only 24 of these boat-tail roadsters built.
The headlight lenses on early cars had patterns to channel the light where the manufacture wanted it to go. These are certainly interesting lenses on this vehicle.
The standard engine was a 4-cylinder built by Buda. The Buda Engine Co. was founded in 1881 and Based in Harvey, Illinois. Buda advertisements in the early 1900's proclaimed Buda as "Pioneer of the cast-in-block" method. Their engines featured long stroke, enclosed valves, noiseless timing gears, and self-contained oiling system. Early four-cylinder gasoline-fueled models produced 30 to 60 bhp. Buda Engine Company was acquired by Allis-Chalmers in 1953. By the 1920's I think the Contenintal engine was more popular for auto builders who did not make their own engines. Continental Motors Company built engines for automobiles from 1905 until the 1960's. An upgrade to a Rochester-Duesenberg engine was available for the Argonne.
http://www.mychurchgrowth.com/blog/category/1929-pontiac/
http://www.mychurchgrowth.com/blog/category/1929-pontiac/1929-vehicles/
http://www.mychurchgrowth.com/blog/category/1929-pontiac/1929-orphan-vehicles/