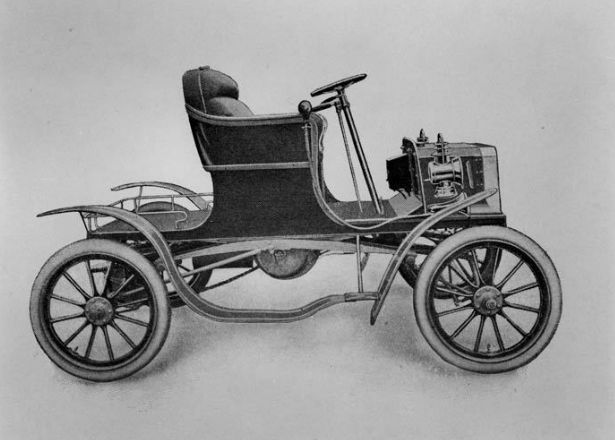 W.H. Birdsall built the first prototype Buckmobile in 1901. The introduction of the car was announced in the June, 1902 Horseless Age and the Buckmobile was one of 114 exhibitors at the November, 1902 New York Auto Show.
The first Buckmobile factory was located in the old Utica Automobile Company plant (which Buckmobile succeeded) at the intersection of John and Catherine streets in Utica, NY. When production exceeded plant capacity Buckmobile relocated to 708 Genesee Street at the intersection of Shepherd Place in Utica. The Utica Automobile Company building remained in operation as a retail automobile dealership offering Wintons, Oldsmobiles, Locomobiles, Electrics and Buckboards.
Childs Company in Utica (just a few blocks away) built the wood coachwork for the Buckmobile roadsters and runabouts from 1903 to 1905. The car was built with leather seat and aluminum fenders. The gasoline capacity was 6 gallons that allowed the 2 cylinder vertical engine to run the car 100 miles with a top speed of 25 miles per hour. The engine was under the seat until 1905, the hood was only for style. The Buckmobile was a single chain drive vehicle with two speeds forward and one reverse controlled by one lever. The wheels could be ordered as either wire or artillery wood construction and either lever or wheel Steering could be ordered. The car listed for $1,850.00 in 1904.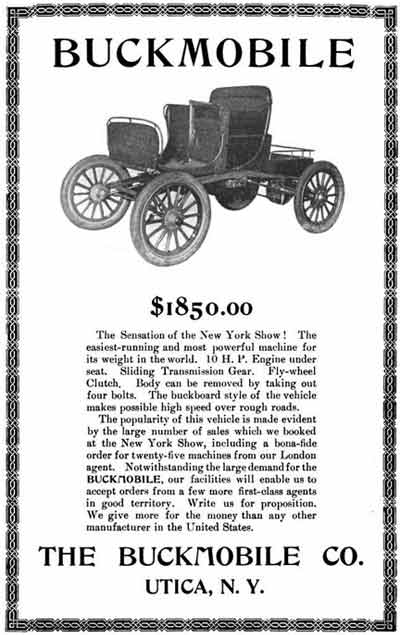 In June of 1904 Motor Age announced the Black Diamond Automobile Company of Geneva, New York would consolidate with Buckmobile and had also purchased the Remington automobile plant to produce practically the same machines being made by the Buckmobile. In November  of 1906 "The Automobile"  reported the Seaton Automobile Company, of Utica, was organized and had purchased the plant of the Black Diamond Automobile Company on Sunset avenue. Legal documents show it was purchased at the Sheriff's sale on October 17 by the former president of the Buckmobile Company, A. J. Seaton.
http://www.mychurchgrowth.com/blog/category/1929-pontiac/
http://www.mychurchgrowth.com/blog/category/1929-pontiac/1929-vehicles/
http://www.mychurchgrowth.com/blog/category/1929-pontiac/1929-orphan-vehicles/