Dec 17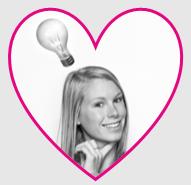 by Victoria Robinson
In the funniest television show ever produced, I Love Lucy, Lucy Ricardo has always got an idea which usually leads to comical trouble. In one episode, Lucy has just followed through on an idea to help Ricky that ended disastrously. Suddenly, Lucy says, "I have an idea!" To which her best friend Ethel responds,  "How can you stand there in the middle of all this mess and utter those four horrible words, 'I've got an idea!'?" While Lucy was never short on ideas, she was also faithful to follow through to make them happen. This however was unfortunate as her ideas always ended badly. Hilarious, but badly none the less.
Have you got an idea? If so, have you followed through and implemented your idea? Hopefully your idea will turn out better than most of  Lucy's. Determining whether an idea has merit can sometimes be difficult, yet there are certain things to consider. First and foremost, does your idea line up with the Word of God? If not, that eliminates it immediately.
One of my favorite Scriptures is found in the sixteenth chapter of Proverbs. It says, "Commit to the LORD whatever you do, and your plans will succeed." This does not infer that everything you endeavor to do will be successful, but rather you will have a successful outcome because God will direct you and help steer your direction. If your idea is wrong and you have committed it to God, He will make that clear to you through determining your steps and graciously help you avoid trouble. Conversely, if your idea is in line with God's desires, success will follow.
Taking action on your idea is important. We can have all the faith that God is going to use the idea, but me must follow through. In the book of James we are told, "… faith without deeds is dead." The apostle Paul saw the church in Corinth had a good idea regarding their giving, and yet he reminds them to not just be enthusiastic about the idea, but to take realistic action.
Dearest girlfriends, I want to encourage you to take the ideas you have, commit them to God, and see what wonderous things He wants to do though you!
… Let your enthusiastic idea at the start be equalled by your realistic action now. ~ 2 Corinthians 8:11 TLB 
In his heart a man plans his course, but the LORD determines his steps. ~ Proverbs 16:9 NIV
As the body without the spirit is dead, so faith without deeds is dead. ~ James 2:26 NIV 
Dreaming all the time instead of working is foolishness. ~ Ecclesiastes 5:7 NLT
Tags: apostle paul, best friend, desires, faith, I Love Lucy, lucy ricardo, proverbs, realistic action, ricky, scriptures, television, Victoria Robinson, Word of God