Dec 03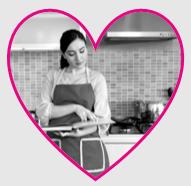 by Victoria Robinson
There are all kinds of cookbooks with the word Bible in their title. There is: The Cake Bible, The Meatball Cookbook Bible, The Sausage Cookbook Bible, The Slow Cooker Bible, The Pasta Bible, and The Pie and Pastry Bible, just to name a few. As an avid collector of cookbooks, I must confess I do not own any of these. There is just something about using the word Bible in a title for a cookbook that is a little unsettling to me.
The truth is most of us want the real Bible to read like a good cookbook. One of my favorite cookbooks is, Mastering the Art of French Cooking by Julia Child. When I read one of Julia's recipes, I know it will be complete with no mystery as to what steps I need to take in order to accomplish success. If the recipes had not  been written with clarity, I do not have the option of contacting Julia and asking for help. The sad fact is, Julia Child passed away on August 13, 2004.
While I do not need to have a relationship with Julia Child to understand her book, I do need one with God to understand His book. Fortunately the author of the Bible is available to answer questions about the mysteries found in it. Yes, there are some Scriptures that are not as easy to understand as reading a cookbook.
Dearest girlfriends, I pray we would ask the Holy Spirit to teach us how to understand the mysteries found in the Bible.
Above all, you must understand that no prophecy of Scripture came about by the prophet's own interpretation. For prophecy never had its origin in the will of man, but men spoke from God as they were carried along by the Holy Spirit. ~ 1 Peter 1:20-21 NIV
All this I have spoken while still with you. But the Counselor, the Holy Spirit, whom the Father will send in my name, will teach you all things and will remind you of everything I have said to you. ~ John 14:25-26 NIV
… but God has revealed it to us by his Spirit. The Spirit searches all things, even the deep things of God. For who among men knows the thoughts of a man except the man's spirit within him? In the same way no one knows the thoughts of God except the Spirit of God. We have not received the spirit of the world but the Spirit who is from God, that we may understand what God has freely given us. This is what we speak, not in words taught us by human wisdom but in words taught by the Spirit, expressing spiritual truths in spiritual words. The man without the Spirit does not accept the things that come from the Spirit of God, for they are foolishness to him, and he cannot understand them, because they are spiritually discerned. ~ 1 Corinthians 2:10-14 NIV
Tags: 1 peter, author of the bible, cake bible, cookbook, cookbooks, deep things of god, holy spirit, julia child, mastering the art of french cooking, mysteries, pastry, prophecy, sausage, scriptures, slow cooker, thoughts of a man, using the word, Victoria Robinson