May 27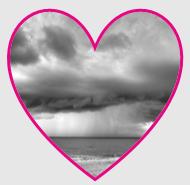 by Victoria Robinson
In 1943 Lena Horne sang the soulful song, Stormy Weather, in the classic movie by the same title. Unfortunately, there are seasons in our lives when these sad lyrics can be the song of our hearts.
My life is bare,
Gloom and misery everywhere.
Stormy weather.
Just can't get my po' self together,
I'm weary all the time.
The time.
… All I do is pray,
That the Lord above will let me,
Walk in the sun once more.
Girlfriends, if you are experiencing a stormy season and are anxious to see the sun once more, take heart that the Lord is a sun and shield who bestows favor and honor. He withholds no good thing from those whose walk is blameless. This does not necessarily mean that your rain clouds are caused by sin, but it is always prudent to ask your heavenly Father if iniquity in your heart could be the reason for what you are going through. If you have iniquity—repent. If not, it is important to understand that the enemy wants you to feel dreary and hopeless.
If you are weary of your stormy weather, look for sunshine in the Word of God—it is all right there for you to find. Do not allow the dark whispers of the enemy to depress you. They are lies and the only thing he is capable of speaking. Your heavenly Father's words are where the light of truth can be found.
Dearest girlfriends, I pray that when the storm clouds roll in we would walk in the sunshine found in His living truth.
You rule the oceans when their waves arise in fearful storms; you speak, and they lie still. ~ Psalm 89:9 TLB
For the LORD God is a sun and shield; the LORD bestows favor and honor; no good thing does he withhold from those whose walk is blameless. ~ Psalm 84:11 NIV
Your eye is a lamp for your body. A pure eye lets sunshine into your soul. But an evil eye shuts out the light and plunges you into darkness. Make sure that the light you think you have is not really darkness. If you are filled with light, with no dark corners, then your whole life will be radiant, as though a floodlight is shining on you. ~ Luke 11:34-36 NLT 
Be careful! Watch out for attacks from the Devil, your great enemy. He prowls around like a roaring lion, looking for some victim to devour. Take a firm stand against him, and be strong in your faith. Remember that your Christian brothers and sisters all over the world are going through the same kind of suffering you are. In his kindness God called you to his eternal glory by means of Jesus Christ. After you have suffered a little while, he will restore, support, and strengthen you, and he will place you on a firm foundation. All power is his forever and ever. Amen. ~ 1 Peter 5:8-11 NLT
Tags: 1943, 2 corinthians 4, dark corners, dark whispers, evil eye, heavenly father, iniquity, lena horne, light of truth, living truth, lord god, psalm 84, rain clouds, song stormy weather, soulful song, stormy season, stormy weather, sunshine, tlb, Victoria Robinson, Word of God