Nov 16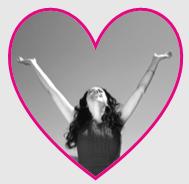 by Victoria Robinson
The Word of God shows us that God inhabits the praises of His people. Since God is pure, then when we choose to praise Him we are focusing on purity.
The psalmist said, "I praise you because I am fearfully and wonderfully made; your works are wonderful, I know that full well."  Wow! If we would align our hearts with this same truth and praise our heavenly Father for how He chose to create us then the purity of praising Him would set us free. Free from thoughts like …
♥ I hate being short!
♥ I hate being tall!
♥ I hate my thin and stringy hair!
♥ I hate my thick and frizzy hair!
♥ I hate the color of my eyes!
♥ I hate my small feet!
♥ I hate my big feet!
♥ I hate my nose!
When we use the purity of praise we align with the truth. The truth is that we are all fearfully and wonderfully made by our heavenly Father. Therefore whatever height, hair, eyes, and feet we have were designed in perfection. Yet as women we can easily get focused on what we do not like about our bodies instead of understanding the freedom that protects us when we praise God for His wonderful creation.
If you are ready to focus on the purity of praise then Psalm 150 is a great place to start. This psalm is a doxology which is a declaration of praise to God or a brief hymn expressing His power and glory. Within this short Psalm the word praise is found thirteen times! Have fun praising the Lord girlfriends!
Praise the LORD. 
Praise God in his sanctuary;
praise him in his mighty heavens.
Praise him for his acts of power;
praise him for his surpassing greatness.
Praise him with the sounding of the trumpet,
praise him with the harp and lyre,
praise him with tambourine and dancing,
praise him with the strings and flute,
praise him with the clash of cymbals,
praise him with resounding cymbals. 
Let everything that has breath praise the LORD. 
Praise the LORD.
Dearest girlfriends, let us focus on the purity of praising our heavenly Father rather than bemoaning the lies the enemy of our souls tells us.
But You are holy, Enthroned in the praises of Israel. ~ Psalm 22:3 NKJV 
For you created my inmost being; you knit me together in my mother's womb. I praise you because I am fearfully and wonderfully made; your works are wonderful, I know that full well. My frame was not hidden from you when I was made in the secret place. When I was woven together in the depths of the earth, your eyes saw my unformed body. All the days ordained for me were written in your book before one of them came to be. ~ Psalm 139:13-16 NIV 
Praise the LORD. How good it is to sing praises to our God, how pleasant and fitting to praise him! ~ Psalm 147:1 NIV 
Praise the LORD. Praise God in his sanctuary; praise him in his mighty heavens. Praise him for his acts of power; praise him for his surpassing greatness. Praise him with the sounding of the trumpet, praise him with the harp and lyre, praise him with tambourine and dancing, praise him with the strings and flute, praise him with the clash of cymbals, praise him with resounding cymbals. Let everything that has breath praise the LORD. Praise the LORD. ~ Psalm 150:1-6 NIV
Tags: breath praise, doxology, frizzy hair, god inhabits the praises of his people, greatness, harp, heavenly father, lord praise, power and glory, praise to god, praises, psalm 150, psalmist, purity, stringy hair, tambourine, Victoria Robinson, wonderful creation, Word of God