Posts Tagged 'acts 2'
Jun 28
by Victoria Robinson
The words, "I wanna say I'm sorry." hold a special place in my heart. I have a precious young lady God has placed in my life and though she is now all "grown up" at six years old, when she was younger and would find herself stuck in the corner of the hallway of her home in a timeout, she would utter those sweet words. At times though, it would take some time facing the wall with no toys to play with for her heart to decide to line up with God's heart. However short or long she waited, she would inevitably have a big smile on her face as she embraced the freedom a right heart brings.
When my heart is not right with God, I am stuck in that same prison my little friend found herself in. With a frown on my face, misery in my heart, and an unwillingness to say to God, "I wanna say I'm sorry." my life just does not improve.
In the book of Numbers we see an example of a man named Balaam who suffered a crushed foot because of his refusal to have a right heart. Balaam had been summoned by the Moabite king Balak to curse the Israelites before they entered Canaan. Because of a greedy heart, he agreed to commit this evil act. God was clearly not pleased with him and even used a donkey to not only crush his foot, but to literally speak to him. Oh, if only Balaam would have said to God that he was sorry before his foot was maimed!
Along with saying you're sorry, it is also essential to follow God's plan. If you are truly sorry then obedience will follow. Just as my little friend would find herself right back in the corner if her behavior did not change, we will find ourselves back in trouble. In the book of Deuteronomy we see a perfect of example of this. The Israelites had chosen not to trust God and go up and take the land He promised them. Upon hearing Moses rebuke of their evil behavior they promptly decided to say they were sorry. However, as soon as they repented, they did not follow God's advice. They told Moses they would now go take the land despite Moses warning them they would be killed. The Amorites who lived in those hills came out against them and chased them like a swarm of bees and beat them down from Seir all the way to Hormah. So, if you have told God you're sorry, do not try to solve your problems, but allow Him to show you His plan.
Dearest girlfriends, do you need to stop right now and say to God, "I wanna say I'm sorry."? If so, this is a perfect time to release yourself from an uncomfortable spiritual prison and walk in the freedom  that only He can give.
… yet now I am happy, not because you were made sorry, but because your sorrow led you to repentance. For you became sorrowful as God intended and … Godly sorrow brings repentance that leads to salvation and leaves no regret, but worldly sorrow brings death. ~ 2 Corinthians 7:9-10 NIV 
Sorrow is better than laughter, because a sad face is good for the heart. The heart of the wise is in the house of mourning, but the heart of fools is in the house of pleasure. ~ Ecclesiastes 7:3-4 NIV
Balaam got up in the morning, saddled his donkey and went with the princes of Moab. But God was very angry when he went, and the angel of the LORD stood in the road to oppose him. Balaam was riding on his donkey, and his two servants were with him. When the donkey saw the angel of the LORD standing in the road with a drawn sword in his hand, she turned off the road into a field. Balaam beat her to get her back on the road. Then the angel of the LORD stood in a narrow path between two vineyards, with walls on both sides. When the donkey saw the angel of the LORD, she pressed close to the wall, crushing Balaam's foot against it. So he beat her again. Then the angel of the LORD moved on ahead and stood in a narrow place where there was no room to turn, either to the right or to the left. When the donkey saw the angel of the LORD, she lay down under Balaam, and he was angry and beat her with his staff. Then the LORD opened the donkey's mouth, and she said to Balaam, "What have I done to you to make you beat me these three times?" Balaam answered the donkey, "You have made a fool of me! If I had a sword in my hand, I would kill you right now."  The donkey said to Balaam, "Am I not your own donkey, which you have always ridden, to this day? Have I been in the habit of doing this to you?" "No," he said. Then the LORD opened Balaam's eyes, and he saw the angel of the LORD standing in the road with his sword drawn. So he bowed low and fell facedown. The angel of the LORD asked him, "Why have you beaten your donkey these three times? I have come here to oppose you because your path is a reckless one before me. The donkey saw me and turned away from me these three times. If she had not turned away, I would certainly have killed you by now, but I would have spared her." Balaam said to the angel of the LORD, "I have sinned. I did not realize you were standing in the road to oppose me. Now if you are displeased, I will go back."  ~ Numbers 22:21-34 NIV 
Then I said to you, "Do not be terrified; do not be afraid of them. The LORD your God, who is going before you, will fight for you, as he did for you in Egypt, before your very eyes, and in the desert. In spite of this, you did not trust in the LORD your God, who went ahead of you on your journey, in fire by night and in a cloud by day, to search out places for you to camp and to show you the way you should go. When the LORD heard what you said, he was angry and solemnly swore: "Not a man of this evil generation shall see the good land I swore to give your forefathers, except Caleb son of Jephunneh. He will see it, and I will give him and his descendants the land he set his feet on, because he followed the LORD wholeheartedly." … Then you replied, "We have sinned against the LORD. We will go up and fight, as the LORD our God commanded us." So every one of you put on his weapons, thinking it easy to go up into the hill country. But the LORD said to me, "Tell them, 'Do not go up and fight, because I will not be with you. You will be defeated by your enemies.'" So I told you, but you would not listen. You rebelled against the LORD's command and in your arrogance you marched up into the hill country. The Amorites who lived in those hills came out against you; they chased you like a swarm of bees and beat you down from Seir all the way to Hormah.  ~ Deuteronomy 1:29-36,41-43 NIV 
… I preached that they should repent and turn to God and prove their repentance by their deeds. ~ Acts 26:20 NIV
Jan 24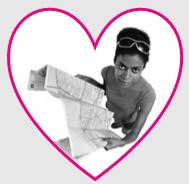 by Victoria Robinson
There once was a man named Jacob who had total assurance that God was his constant companion throughout his life. Sounds so comforting to think of his thoughts recorded in the book of Genesis, "… God, who answered me in the day of my distress and who has been with me wherever I have gone." God had assured him earlier in his life that, "I am with you and will watch over you wherever you go …"
The psalmist also proclaimed great hope that the Lord would never abandon him. Girlfriends, rejoice in the fact we have that same hope. Whatever you may be dealing with in your life today, rest assured God is with you at all times and will never leave your side.
Dearest girlfriends, let us be strong and courageous allowing the words of God to comfort us in knowing He is with us wherever we go.
Then come, let us go up to Bethel, where I will build an altar to God, who answered me in the day of my distress and who has been with me wherever I have gone. ~ Genesis 35:3 NIV
A man of many companions may come to ruin, but there is a friend who sticks closer than a brother. ~ Proverbs 18:24 NIV
David said about him: "'I saw the Lord always before me. Because he is at my right hand, I will not be shaken. Therefore my heart is glad and my tongue rejoices; my body also will live in hope, because you will not abandon me to the grave, nor will you let your Holy One see decay. You have made known to me the paths of life; you will fill me with joy in your presence.' ~ Acts 2:25- NIV
The LORD your God is with you, he is mighty to save. He will take great delight in you, he will quiet you with his love, he will rejoice over you with singing. ~ Zephaniah 3:17 NIV