Posts Tagged 'appointment'
Nov 18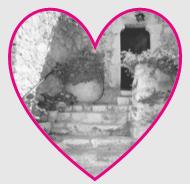 by Victoria Robinson
There are many instances in the Scriptures where godly people were praying in an upstairs room. One notable story is Daniel who could be found praying in his upstairs room three times a day. While there is no biblical mandate to be in an upstairs room when we pray, is God calling you to an appointment for prayer?
The story of Daniel puts to rest any thoughts we may have concerning setting aside time and being consistent in prayer. Daniel knew he was facing death for what he was doing, yet his steadfastness is a lesson to us all. There was also a dedicated woman named Anna who never left the temple but worshiped night and day, fasting and praying. Next to these two faithful believers, setting one or several appointments for prayer each day seems so elementary. The truth is we are called to pray consistently.
Does your prayer life consist of a wherever and whenever schedule or do you have consistency in seeking God? The psalmist says that he calls to God in the evening, morning, and noon. I have heard of Christian sisters who set up a literal prayer room in their home. Girlfriends, what a beautiful idea to set aside a place just to meet with our heavenly Father! No matter when or where you choose to pray, being consistent is what is important.
Dearest girlfriends, I want to encourage you to set your hearts on prayer, set your appointments for prayer, and thus set the course for your life by seeking your heavenly Father's face.
Now when Daniel learned that the decree had been published, he went home to his upstairs room where the windows opened toward Jerusalem. Three times a day he got down on his knees and prayed, giving thanks to his God, just as he had done before. ~ Daniel 6:10 NIV
Now Daniel so distinguished himself among the administrators and the satraps by his exceptional qualities that the king planned to set him over the whole kingdom. At this, the administrators and the satraps tried to find grounds for charges against Daniel in his conduct of government affairs, but they were unable to do so. They could find no corruption in him, because he was trustworthy and neither corrupt nor negligent. Finally these men said, "We will never find any basis for charges against this man Daniel unless it has something to do with the law of his God." So the administrators and the satraps went as a group to the king and said: "O King Darius, live forever! The royal administrators, prefects, satraps, advisers and governors have all agreed that the king should issue an edict and enforce the decree that anyone who prays to any god or man during the next thirty days, except to you, O king, shall be thrown into the lions' den. Now, O king, issue the decree and put it in writing so that it cannot be altered—in accordance with the laws of the Medes and Persians, which cannot be repealed." So King Darius put the decree in writing. ~ Daniel 6:3-9 NIV
Then these men went as a group and found Daniel praying and asking God for help. So they went to the king and spoke to him about his royal decree: "Did you not publish a decree that during the next thirty days anyone who prays to any god or man except to you, O king, would be thrown into the lions' den?" The king answered, "The decree stands—in accordance with the laws of the Medes and Persians, which cannot be repealed." Then they said to the king, "Daniel, who is one of the exiles from Judah, pays no attention to you, O king, or to the decree you put in writing. He still prays three times a day." ~ Daniel 6:11-13 NIV
There was also a prophetess, Anna, the daughter of Phanuel, of the tribe of Asher. She was very old; she had lived with her husband seven years after her marriage, and then was a widow until she was eighty-four. She never left the temple but worshiped night and day, fasting and praying. ~ Luke 2:36-37 NIV
But I call to God, and the LORD saves me. Evening, morning and noon I cry out in distress, and he hears my voice. ~ Psalm 55:16-17 NIV
But when you pray, go into your room, close the door and pray to your Father, who is unseen. Then your Father, who sees what is done in secret, will reward you. ~ Matthew 6:6 NIV
Then you will call upon me and come and pray to me, and I will listen to you. You will seek me and find me when you seek me with all your heart. ~ Jeremiah 29:12-13 NIV