Posts Tagged 'book of ephesians'
Jan 05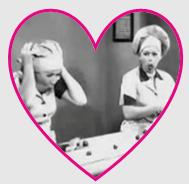 by Victoria Robinson
Some would say that April 26, 1989 is the day the laughter died. That is the day that the greatest comedienne of all time died. Lucille Ball who spent her life bringing laughter to millions was silenced. My dearest friend Cyndee and I have spent numerous hours laughing while watching I Love Lucy. Who could resist laughing as Lucy and Ethel frantically gobble handfuls of chocolate candy to hide their failure on their new job venture. What about that hilarious expression on Lucy's face when her boss says, "Speed it up a little!"? But alas, our lives are not always filled with laughter. Life has a way of turning laughter into mourning.
The Bible gives us many examples of times the laughter died. One such was when Sarah had given birth to Isaac. On this joyous day she said, "God has brought me laughter, and everyone who hears about this will laugh with me." Interestingly the name Isaac is Yitschaq in Hebrew which means "he laughs". Yet, there would come a day when Sarah would find herself not laughing.  A great feast was held when Isaac was weaned. The truth is Sarah's distress on this particular day was the result of sin. Sarah had refused to wait on the promise of God to have a child and took matters into her own hands. Subsequently Hagar gave birth to Abraham's first son, Ishmael. At the feast, Sarah observed Ishmael mocking her son Isaac. Like any mother, this upset her.
Girlfriends, has your laughter died? There are many reasons we  find ourselves not laughing. One is quite simply sin. If this is why your laughter has ceased, then immediate repentance will bring joy to your heart and times of laughter to return.
 Another reason is that our heavenly Father allows difficulties to come into our life in order for His greater purposes to be accomplished. Such is the case of the many hardships Joseph had to endure in the book of Genesis. If this is the reason you have no laughter, then accepting God's greater plan for your life will bring you joy. Last year in the short span of a week I had three friends lose their husbands. All these ladies have accepted Jesus Christ into their lives and have the comfort only He can provide. However, understandably this was a period in their lives with very little laughter.
The enemy of your soul also wants to steal your laughter. Sometimes he will even convince you of a lie. For instance, "God is not going to bring you through a difficult time." The only way to prevent Satan from absconding with your laughter is shielding yourself with the Word. The book of Ephesians tells us to take up the shield of faith, with which we can extinguish all the flaming arrows of the evil one. The word faith in the original Greek is pistis which means conviction of the truth. The way to have conviction of the truth is to immerse yourself in the Word of God.
Laughter is an important gift our heavenly Father has given us. The Word of God tells us laughter can even bring healing to our bodies.
While we must recognize the truth that King Solomon told us so long ago—there is a time to weep and a time to laugh, let us examine our hearts to see if and why the laughter has died. If repentance is needed then, let us have a change of heart and watch the laughter return. If we are walking through divinely appointed hardships, let us rejoice in the fact that our heavenly Father knows what is best for us. If we are believing lies Satan is telling us, let us put on the shield of conviction of the truth of the Word of God.
Dearest girlfriends, I pray we would allow the laughter to return to our hearts and enjoy the life God has chosen for us.
Abraham was a hundred years old when his son Isaac was born to him. Sarah said, "God has brought me laughter, and everyone who hears about this will laugh with me." And she added, "Who would have said to Abraham that Sarah would nurse children? Yet I have borne him a son in his old age." The child grew and was weaned, and on the day Isaac was weaned Abraham held a great feast. But Sarah saw that the son whom Hagar the Egyptian had borne to Abraham was mocking, and she said to Abraham, "Get rid of that slave woman and her son, for that slave woman's son will never share in the inheritance with my son Isaac." ~ Genesis 21:5-10 NIV
But Joseph said to them, "Don't be afraid. Am I in the place of God? You intended to harm me, but God intended it for good to accomplish what is now being done, the saving of many lives. ~ Genesis 50:19-20 NIV
So give yourselves humbly to God. Resist the devil and he will flee from you. And when you draw close to God, God will draw close to you. Wash your hands, you sinners, and let your hearts be filled with God alone to make them pure and true to him. Let there be tears for the wrong things you have done. Let there be sorrow and sincere grief. Let there be sadness instead of laughter, and gloom instead of joy. Then when you realize your worthlessness before the Lord, he will lift you up, encourage and help you. ~ James 7:7-10 TLB
In addition to all this, take up the shield of faith, with which you can extinguish all the flaming arrows of the evil one. ~ Ephesians 6:16 NIV
Jan 02
by Victoria Robinson
Isn't it wonderful to have someone complement your choice of fragrance? Makes you feel pretty and elevates your mood doesn't it? What is your favorite perfume? Floral, spicy, herbal, musky, powdery, woody, maybe even sweet? A sweet fragrance is absolutely the finest. I say that with confidence based on the Word of God. In the book of Ephesians it says, "And God was pleased, because that sacrifice was like sweet perfume to him." The sweet perfume He was referring to was the by-product produced by the sacrifice of Jesus Christ who gave Himself for our sins that we might inherit eternal life.
We are called to live a life filled with love for others just like Jesus did. As we live such a life, we wear the same perfume Jesus did. Now that's a beautiful scent girlfriends! Dearest girlfriends, let us live a life filled with love for others and spread the sweet fragrance of our Lord and Savior.
Live a life filled with love for others, following the example of Christ, who loved you and gave himself as a sacrifice to take away your sins. And God was pleased, because that sacrifice was like sweet perfume to him. ~ Ephesians 5:2 NLT
And now I want to urge you, dear lady, that we should love one another. This is not a new commandment, but one we had from the beginning. Love means doing what God has commanded us, and he has commanded us to love one another, just as you heard from the beginning. ~ 2 John 5-6 NLT
Dear friends, let us continue to love one another, for love comes from God. Anyone who loves is born of God and knows God. But anyone who does not love does not know God—for God is love. God showed how much he loved us by sending his only Son into the world so that we might have eternal life through him. This is real love. It is not that we loved God, but that he loved us and sent his Son as a sacrifice to take away our sins. Dear friends, since God loved us that much, we surely ought to love each other. No one has ever seen God. But if we love each other, God lives in us, and his love has been brought to full expression through us. ~ 1 John 4:7-12 NLT