Posts Tagged 'clothes'
Jun 13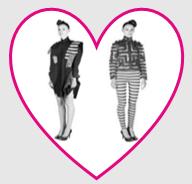 by Victoria Robinson
Two important things my sweet husband has learned to say are, "No, that dress does not make you look fat.", and "Cute shoes!" Girlfriends, doesn't it always give you a wonderful feeling to have someone make flattering comments about your wardrobe? It is even more important for our heavenly Father to assure us we are dressed beautifully. Now that is a priceless feeling!
Dressing appropriately involves two aspects. Never wearing something ugly and alway wearing beautiful attire. The psalmist describes two ugly pieces of a wardrobe. A prideful necklace and violent clothes. Wow! That paints an awful picture. Joshua was told to change from his filthy clothes into rich garments. Now that paints a beautiful picture! What was required of Joshua to change his wardrobe was to walk in the ways of the Lord.
Girlfriends, an ugly wardrobe comes out of our "sin closet". Rich garments come out of our "godly closet". Which closet are you dressing from today?
Dearest girlfriends, let us throw away the ugly wardrobe of sin and dress ourselves in the beauty of godliness.
Now Joshua was dressed in filthy clothes as he stood before the angel. The angel said to those who were standing before him, "Take off his filthy clothes." Then he said to Joshua, "See, I have taken away your sin, and I will put rich garments on you." Then I said, "Put a clean turban on his head." So they put a clean turban on his head and clothed him, while the angel of the LORD stood by. The angel of the LORD gave this charge to Joshua: "This is what the LORD Almighty says: 'If you will walk in my ways and keep my requirements, then you will govern my house and have charge of my courts, and I will give you a place among these standing here. ~ Zechariah 3:3-4 NIV
Dec 30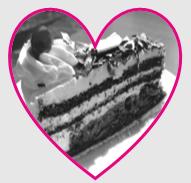 by Victoria Robinson
When you are invited to dinner at someone's home, the one thing you can be certain of is receiving a meal. A sweet dessert … maybe, maybe not. When a meal is provided by someone else, dessert is not necessarily included. There is however someone who has invited everyone to dine and without fail will serve dessert.
Your heavenly Father who so graciously gave us His Son so that we may partake of the meal of eternal life has said, "He who did not spare his own Son, but gave him up for us all—how will he not also, along with him, graciously give us all things?" Having the pleasure of enjoying a sweet dessert after a meal is a treat, an extra bonus to the meal. In the same way, the "dessert" your heavenly Father gives you is all the wonderful treats He gives beyond eternal life. His daily provision, healing, comfort, etc.
Dearest girlfriends, I pray we would look to our heavenly dinner host—our heavenly Father, to provide the sweet "desserts" of life.
He who did not spare his own Son, but gave him up for us all—how will he not also, along with him, graciously give us all things? ~ Romans 8:32 NIV
"Behold, I stand at the door and knock. If anyone hears My voice and opens the door, I will come in to him and dine with him, and he with Me. ~ Revelation 3:20 NKJV
"Therefore I tell you, do not worry about your life, what you will eat or drink; or about your body, what you will wear. Is not life more important than food, and the body more important than clothes? Look at the birds of the air; they do not sow or reap or store away in barns, and yet your heavenly Father feeds them. Are you not much more valuable than they? Who of you by worrying can add a single hour to his life? "And why do you worry about clothes? See how the lilies of the field grow. They do not labor or spin. Yet I tell you that not even Solomon in all his splendor was dressed like one of these. If that is how God clothes the grass of the field, which is here today and tomorrow is thrown into the fire, will he not much more clothe you, O you of little faith? So do not worry, saying, 'What shall we eat?' or 'What shall we drink?' or 'What shall we wear?' For the pagans run after all these things, and your heavenly Father knows that you need them. But seek first his kingdom and his righteousness, and all these things will be given to you as well. ~ Matthew 6:25-33 NIV
"Which of you, if his son asks for bread, will give him a stone? Or if he asks for a fish, will give him a snake? If you, then, though you are evil, know how to give good gifts to your children, how much more will your Father in heaven give good gifts to those who ask him! ~ Matthew 7:9-11 NIV