Posts Tagged 'constant companion'
Mar 02
by Victoria Robinson
The prophet Isaiah wisely stated, "Look how your sins have made fools of you." When we sin we are being foolish. In his devastation King David said, "I have sinned greatly in what I have done. Now, O LORD, I beg you, take away the guilt of your servant. I have done a very foolish thing." He had played the fool by going against the Lord's will by taking a census. Job's wife was playing the fool when he rebuked her, "You are talking like a foolish woman. Shall we accept good from God, and not trouble?" She had played the fool by telling her husband, "Are you still holding on to your integrity? Curse God and die!"
When we sin we are playing the fool and will always look foolish, but more importantly destruction will be our constant companion. Dearest girlfriends, I pray we would take sin seriously and stop playing the fool.
David was conscience-stricken after he had counted the fighting men, and he said to the LORD, "I have sinned greatly in what I have done. Now, O LORD, I beg you, take away the guilt of your servant. I have done a very foolish thing." ~ 2 Samuel 24:10 NIV
His wife said to him, "Are you still holding on to your integrity? Curse God and die!" He replied, "You are talking like a foolish woman. Shall we accept good from God, and not trouble?" In all this, Job did not sin in what he said. ~ Job 2:9-10 NIV
Come back to your senses as you ought, and stop sinning; for there are some who are ignorant of God—I say this to your shame. ~ 1 Corinthians 15:34 NIV
Jan 24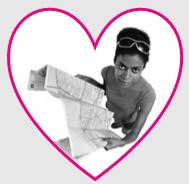 by Victoria Robinson
There once was a man named Jacob who had total assurance that God was his constant companion throughout his life. Sounds so comforting to think of his thoughts recorded in the book of Genesis, "… God, who answered me in the day of my distress and who has been with me wherever I have gone." God had assured him earlier in his life that, "I am with you and will watch over you wherever you go …"
The psalmist also proclaimed great hope that the Lord would never abandon him. Girlfriends, rejoice in the fact we have that same hope. Whatever you may be dealing with in your life today, rest assured God is with you at all times and will never leave your side.
Dearest girlfriends, let us be strong and courageous allowing the words of God to comfort us in knowing He is with us wherever we go.
Then come, let us go up to Bethel, where I will build an altar to God, who answered me in the day of my distress and who has been with me wherever I have gone. ~ Genesis 35:3 NIV
A man of many companions may come to ruin, but there is a friend who sticks closer than a brother. ~ Proverbs 18:24 NIV
David said about him: "'I saw the Lord always before me. Because he is at my right hand, I will not be shaken. Therefore my heart is glad and my tongue rejoices; my body also will live in hope, because you will not abandon me to the grave, nor will you let your Holy One see decay. You have made known to me the paths of life; you will fill me with joy in your presence.' ~ Acts 2:25- NIV
The LORD your God is with you, he is mighty to save. He will take great delight in you, he will quiet you with his love, he will rejoice over you with singing. ~ Zephaniah 3:17 NIV