Posts Tagged 'cute shoes'
Jun 13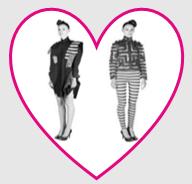 by Victoria Robinson
Two important things my sweet husband has learned to say are, "No, that dress does not make you look fat.", and "Cute shoes!" Girlfriends, doesn't it always give you a wonderful feeling to have someone make flattering comments about your wardrobe? It is even more important for our heavenly Father to assure us we are dressed beautifully. Now that is a priceless feeling!
Dressing appropriately involves two aspects. Never wearing something ugly and alway wearing beautiful attire. The psalmist describes two ugly pieces of a wardrobe. A prideful necklace and violent clothes. Wow! That paints an awful picture. Joshua was told to change from his filthy clothes into rich garments. Now that paints a beautiful picture! What was required of Joshua to change his wardrobe was to walk in the ways of the Lord.
Girlfriends, an ugly wardrobe comes out of our "sin closet". Rich garments come out of our "godly closet". Which closet are you dressing from today?
Dearest girlfriends, let us throw away the ugly wardrobe of sin and dress ourselves in the beauty of godliness.
Now Joshua was dressed in filthy clothes as he stood before the angel. The angel said to those who were standing before him, "Take off his filthy clothes." Then he said to Joshua, "See, I have taken away your sin, and I will put rich garments on you." Then I said, "Put a clean turban on his head." So they put a clean turban on his head and clothed him, while the angel of the LORD stood by. The angel of the LORD gave this charge to Joshua: "This is what the LORD Almighty says: 'If you will walk in my ways and keep my requirements, then you will govern my house and have charge of my courts, and I will give you a place among these standing here. ~ Zechariah 3:3-4 NIV
Jan 18
by Victoria Robinson
High heels are so much fun to wear. They are so feminine and can really elongate your legs and make you feel pretty. Sometimes all it takes is a cute high heel to lift a girl's spirits up. On the other hand, some "high heels" can cause us to take quite a spill. This would include the "high heels" of pride and haughtiness.
Just because high heels can cause you to trip and fall, does not mean you can never wear them. You just have to wear the right ones. My adorable husband, Rick, knows that a sure way to make me smile is to compliment my shoes by saying, "Cute shoes!" What "cute shoes" does the Word of God encourage us to wear? Try a pair of "humble high heels". Being a lady who practices humility will ensure you do not trip and fall.
Dearest girlfriends, let us kick off the "high heels" of pride and haughtiness in our life and slip on the "high heels" of humility.
Pride ends in a fall, while humility brings honor. ~ Proverbs 29:23 TLB
Do nothing out of selfish ambition or vain conceit, but in humility consider others better than yourselves. ~ Philippians 2:3 NIV
Humility and the fear of the LORD bring wealth and honor and life. ~ Proverbs 22:4 NIV
Before his downfall a man's heart is proud, but humility comes before honor. ~ Proverbs 18:12 NIV 
When pride comes, then comes disgrace, but with humility comes wisdom. ~ Proverbs 11:2 NIV
Since God chose you to be the holy people whom he loves, you must clothe yourselves with tenderhearted mercy, kindness, humility, gentleness, and patience. ~ Colossians 3:12 NLT