Posts Tagged 'discontent'
Sep 07
by Victoria Robinson
Three things that come to mind when I think of never having enough are … chocolate, chocolate, and chocolate!!! (Which might explain my hips! LOL) Unfortunately the number one thing most of us tend to think we never have enough of is money and possessions, which really equates to not trusting in our heavenly Father's provision. King Solomon who was himself extremely rich, said, "Whoever loves money never has money enough; whoever loves wealth is never satisfied with his income. This too is meaningless."
King Solomon gave us a wonderful remedy when our hearts say, "I don't have enough!" He said, "Enjoy what you have rather than desiring what you don't have." Gratitude is so powerful in so many situations, but when it comes to dissatisfaction of our status in regards to wealth—it is a great cure. Another remedy is giving. No matter what the state of your possessions, giving even the smallest of your goods away will help set you free of being discontent. So girlfriends, look at the inventory of your possessions and start thanking and get busy giving!
Dearest girlfriends, I pray we would develop hearts of gratitude, giving, and contentement based on scriptural truths.
Whoever loves money never has money enough; whoever loves wealth is never satisfied with his income. This too is meaningless. ~ Ecclesiastes 5:10 NIV 
Yet true religion with contentment is great wealth. After all, we didn't bring anything with us when we came into the world, and we certainly cannot carry anything with us when we die. So if we have enough food and clothing, let us be content. But people who long to be rich fall into temptation and are trapped by many foolish and harmful desires that plunge them into ruin and destruction. For the love of money is at the root of all kinds of evil. And some people, craving money, have wandered from the faith and pierced themselves with many sorrows. ~ 1 Timothy 6:6-10 NLT 
I am not saying this because I am in need, for I have learned to be content whatever the circumstances. I know what it is to be in need, and I know what it is to have plenty. I have learned the secret of being content in any and every situation, whether well fed or hungry, whether living in plenty or in want. I can do everything through him who gives me strength. ~ Philippians 4:11-13 NIV
Feb 06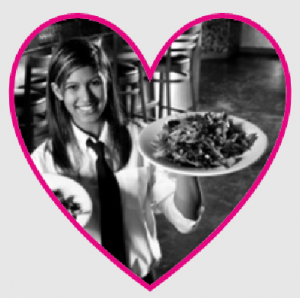 by Victoria Robinson
Don't you just love being waited on at a restaurant or store by someone who is smiling and being attentive to your every need. Hmmm … sounds a lot like the greatest servant of all time, our Lord and Savior! In the book of Matthew He describes his true heart of service as, "… the Son of Man did not come to be served, but to serve, and to give his life as a ransom for many."
Girlfriends, do you serve with a smile or do you sometimes find yourself complaining? It is so easy to allow the enemy to plant the seeds in our hearts of self-centered desires which is the opposite of our Lord and Savior. This in turn grows into weeds of complaining and discontent. It is necessary to take these seeds out of our hearts immediately and allow our Lord and Savior's attitude of "service with a smile" to permeate our hearts.
The only way we can serve with a smile is to serve in the strength God provides. This then will bring glory to God as it says in the book of First Peter, "If anyone serves, he should do it with the strength God provides, so that in all things God may be praised through Jesus Christ."
Dearest girlfriends, I pray we would serve with a smile as we rely on the strength of our heavenly Father and bring glory to Him.
… whoever wants to become great among you must be your servant, and whoever wants to be first must be your slave— just as the Son of Man did not come to be served, but to serve, and to give his life as a ransom for many. ~ Matthew 20:26-28 NIV
Each one should use whatever gift he has received to serve others, faithfully administering God's grace in its various forms. If anyone speaks, he should do it as one speaking the very words of God. If anyone serves, he should do it with the strength God provides, so that in all things God may be praised through Jesus Christ. To him be the glory and the power for ever and ever. Amen. ~ 1 Peter 4:10-11 NIV
Do nothing out of selfish ambition or vain conceit, but in humility consider others better than yourselves. Each of you should look not only to your own interests, but also to the interests of others. Your attitude should be the same as that of Christ Jesus: Who… made himself nothing, taking the very nature of a servant … ~ Philippians 2:3-7 NIV