Posts Tagged 'distractions'
Jun 01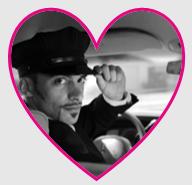 by Victoria Robinson
Girlfriends, when you are driven to distraction, you need to ask, "Who is driving you?" Most likely, you will find it is the enemy of your soul—Lucifer. He is always ready to distract you with activities that have the appearance of being godly. Such is the scenario when two sisters invite Jesus into their home. Martha is distracted with all the preparations to the point of whining to Jesus about her sister Mary's behavior. Yet the Lord tells Martha how wrong her focus is. His response shows her the godliness of Mary who is sitting at His feet hanging onto every word He spoke.
Gracious hospitality is a scriptural attribute a godly lady should practice. But, oh my, telling your guest how much work they have put upon you by coming into your home does not sound gracious does it? Our frazzled Martha would have been smarter to order some takeout and pay attention to her honored guest. (I know… there was not a Domino's Pizza in the neighborhood!) The real point is, the enemy will use activities that have a godly appearance to distract us from focusing on our heavenly Father.
Dearest girlfriends, let us examine our hearts for any distractions that would keep us too busy to sit at our Lord and Savior's feet.
As Jesus and his disciples were on their way, he came to a village where a woman named Martha opened her home to him. She had a sister called Mary, who sat at the Lord's feet listening to what he said. But Martha was distracted by all the preparations that had to be made. She came to him and asked, "Lord, don't you care that my sister has left me to do the work by myself? Tell her to help me!" "Martha, Martha," the Lord answered, "you are worried and upset about many things, but only one thing is needed. Mary has chosen what is better, and it will not be taken away from her." ~ Luke 10:38-42 NIV
But Jesus told him, "Anyone who lets himself be distracted from the work I plan for him is not fit for the Kingdom of God." ~ Luke 9:62 TLB