Posts Tagged 'faults'
Jul 05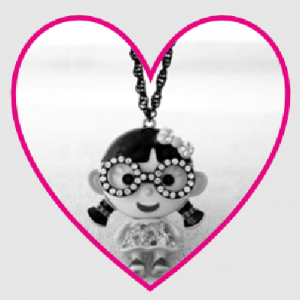 by Victoria Robinson
The psalmist lamented the prosperity of the wicked. Asaph said, "They wear pride like a jeweled necklace …" Asaph also came to realize the sin of envy plaguing his own heart. Oh girlfriends, if only we would be like Asaph and recognize our own shortcomings instead of focusing on the faults of others. The irony is that we are suffering from pride when we envy those who have pride. Thus we choose to wear an ugly necklace ourselves.
Asaph's envy had turned to bitterness. Thankfully he came to understand how close he came to the edge of the cliff. When he comes to his senses he realizes it is the wicked who are on a slippery path and are going to slide over the cliff to destruction.
The wisdom found in Proverbs tells us to wear a beautiful necklace of loyalty and kindness and thus we will find favor with both God and people. It also shows us we will gain a good reputation as well.
Dearest girlfriends, let us not wear an ugly necklace of sin, but instead choose to wear a beautiful necklace of self-reflection by examining our own hearts.
Truly God is good to Israel, to those whose hearts are pure. But as for me, I came so close to the edge of the cliff! My feet were slipping, and I was almost gone. For I envied the proud when I saw them prosper despite their wickedness. They seem to live such a painless life; their bodies are so healthy and strong. They aren't troubled like other people or plagued with problems like everyone else. They wear pride like a jeweled necklace, and their clothing is woven of cruelty. ~ Psalm 73:1-6NLT
So I tried to understand why the wicked prosper. But what a difficult task it is! Then one day I went into your sanctuary, O God, and I thought about the destiny of the wicked. Truly, you put them on a slippery path and send them sliding over the cliff to destruction. In an instant they are destroyed, swept away by terrors. Their present life is only a dream that is gone when they awake. When you arise, O Lord, you will make them vanish from this life. ~ Psalm 73:16-20 NLT
Then I realized how bitter I had become, how pained I had been by all I had seen. I was so foolish and ignorant—I must have seemed like a senseless animal to you. Yet I still belong to you; you are holding my right hand. You will keep on guiding me with your counsel, leading me to a glorious destiny. Whom have I in heaven but you? I desire you more than anything on earth. My health may fail, and my spirit may grow weak, but God remains the strength of my heart; he is mine forever. But those who desert him will perish, for you destroy those who abandon you. But as for me, how good it is to be near God! I have made the Sovereign Lord my shelter, and I will tell everyone about the wonderful things you do. ~ Psalm 73:21-28 NLT
Do not let your heart envy sinners, but always be zealous for the fear of the LORD. There is surely a future hope for you, and your hope will not be cut off. Psalm 23:17-18 NIV
Never let loyalty and kindness get away from you! Wear them like a necklace; write them deep within your heart. Then you will find favor with both God and people, and you will gain a good reputation. ~ Proverbs 3:3-4 NLT
Jan 08
by Victoria Robinson
I have a very beautiful and stylish niece who has a critical eye when it comes to color. She can match colors perfectly when not having a sample with her. She is a great asset to have along when shopping. (She has great tastes as well!) Having a critical eye can be great. On the other hand, it can also be detrimental. Jesus had some people following Him who had a critical eye. No girlfriends, they were not helping Him match His robe to His sandals. They were instead looking to catch Him doing something wrong. For most of His life, Jesus was being watched like a hawk by critical people. Not a very comfortable position to be in was it?
One solution to cure a critical eye is to gouge it out. OUCH! Sorry girlfriends, Jesus did say if our eye causes us to sin, we should gouge it out. But hang on, there is another remedy I think you will prefer. An easier, and much less painful remedy to cure a critical eye is love. If we truly love others we will hope for the best in them, not looking for their faults.
Another important aspect of eliminating a critical eye is prayer. Not only for ourselves, but the ones we are critical of. Examine your heart and ask yourself if you spend more time looking for faults in others or praying for them. If we truly have love in our heart, we will be eager to intercede to our heavenly Father on their behalf.
If we come to the realization of how we wish to be treated, it becomes easier to stop having a critical eye towards those around us. Every one of us has plenty of faults and have no room to be critical of others. Dearest girlfriends, I pray we would be more concerned about our own faults rather than those around us.
Keeping a close watch on him, they sent spies, who pretended to be honest. They hoped to catch Jesus in something he said so that they might hand him over to the power and authority of the governor. So the spies questioned him: "Teacher, we know that you speak and teach what is right, and that you do not show partiality but teach the way of God in accordance with the truth. Is it right for us to pay taxes to Caesar or not?" He saw through their duplicity and said to them, "Show me a denarius. Whose portrait and inscription are on it?" "Caesar's," they replied. He said to them, "Then give to Caesar what is Caesar's, and to God what is God's." They were unable to trap him in what he had said there in public. And astonished by his answer, they became silent. ~ Luke 20:20-26 NIV
For the whole Law can be summed up in this one command: "Love others as you love yourself." But if instead of showing love among yourselves you are always critical and catty, watch out! Beware of ruining each other. ~

TLB

Galatians 5:14-15
And if your eye causes you to sin, gouge it out and throw it away. It is better for you to enter life with one eye than to have two eyes and be thrown into the fire of hell. ~ Matthew 18:9 NIV