Posts Tagged 'good deeds'
Jan 10
by Victoria Robinson
I know girlfriends, it is not easy to discuss being a widow or the thought of becoming one. Yet there is an important lesson found in God's Word concerning behaving like a proper widow. The qualifications for being considered a godly widow found in the book of First Timothy are a wonderful admonition for us all.
Whatever your current situation, whether you are a widow or not, this Scripture is so important. If you are not a widow it is good to understand the importance of attaining these godly characteristics whether you ever become a widow or not.
A proper widow should not be a gossip, or seek only pleasure. A proper widow must spend much time in prayer, have been faithful in marriage, be well thought of, known for her good deeds, brought up her children well, kind to strangers and Christians, and helped those who are sick and hurt.
Dearest girlfriends, I pray we would seek to possess the godly characteristics of a proper widow.
The church should care for widows who are poor and alone in the world if they are looking to God for his help and spending much time in prayer; but not if they are spending their time running around gossiping, seeking only pleasure and thus ruining their souls. This should be your church rule so that the Christians will know and do what is right. A widow who wants to become one of the special church workers should … have been married only once. She must be well thought of by everyone because of the good she has done. Has she brought up her children well? Has she been kind to strangers as well as to other Christians? Has she helped those who are sick and hurt? Is she always ready to show kindness? ~ 1 Timothy 5:5-7,9-10 TLB
Stay away from gossips—they tell everything. ~ Proverbs 20:19 CEV
"It is silly to be laughing all the time," I said. "What good does it do to seek only pleasure?" ~ Ecclesiastes 2:2 NLT
… Instead of loving God, they will love pleasure. Even though they will make a show of being religious, their religion won't be real. Don't have anything to do with such people. ~ 2 Timothy 3:4-5 CEV 
Marriage should be honored by all, and the marriage bed kept pure, for God will judge the adulterer and all the sexually immoral. ~ Hebrews 13:4 NIV
And pray in the Spirit on all occasions with all kinds of prayers and requests. With this in mind, be alert and always keep on praying for all the saints. ~ Ephesians 6:18 NIV
A good reputation and respect are worth much more than silver and gold. ~ Proverbs 22:1 CEV
Do not forget to entertain strangers, for by so doing some people have entertained angels without knowing it. ~ Hebrews 13:2 NIV
Therefore, as God's chosen people, holy and dearly loved, clothe yourselves with compassion, kindness, humility, gentleness and patience. ~ Colossians 3:12 NIV
Dec 16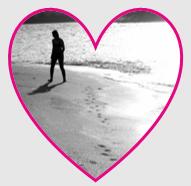 by Victoria Robinson
Another day is coming for all of us. Just what that day will bring depends a great deal upon you. While you reside here on this earth, another day will hold the consequences of your actions today. That can either be good or bad. When you have breathed your last breath on this earth there will be another day known as eternity. Again, your actions now will determine what that day will bring. The Word of God speaks about this as a day of rest for those who have a relationship with the Lord and Savior Jesus Christ. It also describes this day as a day of torment for those who have not received God's gift of eternal life.
Girlfriends, make no mistake, God never told us that if we behave correctly, then there will only be good things in store for us. What He did tell us is that we will be rewarded for our good actions. You might perform great deeds today, and yet tomorrow have a rotten day. But, we are not to lose heart, for the reward of those good deeds will eventually come. One benefit we will always have immediately is a sense of peace, knowing we have conducted ourselves in a manner worthy of the gospel of Christ.
Dearest girlfriends, I pray we would take stock of our behavior and understand the consequences. If you are wondering what your eternity holds, click on the Heaven link and find out how to have eternal life. Heaven 
Do not be deceived: God cannot be mocked. A man reaps what he sows. The one who sows to please his sinful nature, from that nature will reap destruction; the one who sows to please the Spirit, from the Spirit will reap eternal life. Let us not become weary in doing good, for at the proper time we will reap a harvest if we do not give up. Therefore, as we have opportunity, let us do good to all people, especially to those who belong to the family of believers. ~ Galatians 6:7-10 NIV
Just as man is destined to die once, and after that to face judgment, so Christ was sacrificed once to take away the sins of many people; and he will appear a second time, not to bear sin, but to bring salvation to those who are waiting for him. ~ Hebrews 9:27-28 NIV
For if Joshua had given them rest, God would not have spoken later about another day. There remains, then, a Sabbath-rest for the people of God; for anyone who enters God's rest also rests from his own work, just as God did from his. ~ Hebrews 4:8-10 NIV 
Then I saw a new heaven and a new earth, for the first heaven and the first earth had passed away, and there was no longer any sea. I saw the Holy City, the new Jerusalem, coming down out of heaven from God, prepared as a bride beautifully dressed for her husband. And I heard a loud voice from the throne saying, "Now the dwelling of God is with men, and he will live with them. They will be his people, and God himself will be with them and be their God. He will wipe every tear from their eyes. There will be no more death or mourning or crying or pain, for the old order of things has passed away. ~ Revelation 21:1-4 NIV
Then death and Hades were thrown into the lake of fire. The lake of fire is the second death. If anyone's name was not found written in the book of life, he was thrown into the lake of fire. ~ Revelation 20:14-15 NIV
And the devil, who deceived them, was thrown into the lake of burning sulfur, where the beast and the false prophet had been thrown. They will be tormented day and night for ever and ever. ~ Revelation 20:10 NIV
Whatever happens, conduct yourselves in a manner worthy of the gospel of Christ. ~ Philippians 1:27 NIV
But the day of the Lord will come like a thief. The heavens will disappear with a roar; the elements will be destroyed by fire, and the earth and everything in it will be laid bare. Since everything will be destroyed in this way, what kind of people ought you to be? You ought to live holy and godly lives as you look forward to the day of God and speed its coming. That day will bring about the destruction of the heavens by fire, and the elements will melt in the heat. But in keeping with his promise we are looking forward to a new heaven and a new earth, the home of righteousness. So then, dear friends, since you are looking forward to this, make every effort to be found spotless, blameless and at peace with him. ~ 2 Peter 3:10-14 NIV