Posts Tagged 'good gifts'
Jul 13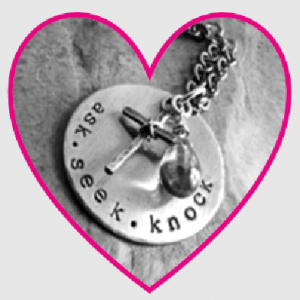 by Victoria Robinson
Our Lord and Savior told us three important ways to attain success. He said, "So I say to you:  Ask and it will be given to you; seek and you will find; knock and the door will be opened to you." He goes on to paint a picture of success, " For everyone who asks receives; he who seeks finds; and to him who knocks, the door will be opened."
He also reminds us that even in our sinful state we give good gifts to our children when he says, "Which of you, if his son asks for bread, will give him a stone? Or if he asks for a fish, will give him a snake? If you, then, though you are evil, know how to give good gifts to your children, how much more will your Father in heaven give good gifts to those who ask him!"
Prior to this story we see someone asking his friend for help. This man boldly goes on an "ASK" mission. His need was bread. His friend had bread. However, the bread was behind a locked door. First, he knocked on the friend's door. Second, he asked for help. Third, he continued to seek what he needed. His mission ended successfully. Our Lord told us this story to exemplify how to ask Him for our needs.
Seeking our heavenly Father for our needs is scripturally supported as well as His desire to provide for us.  However, we must recognize that our heavenly Father is not a "Genie in a bottle" who grants all our wishes. As His children, we are not to be brats telling Him what He must do. We are to be godly children and ask of Him what lines up with His Word. These are the requests we know He will answer.
Dearest girlfriends, let us boldly go on an "ASK" mission to our loving heavenly Father in order to attain what we have need of.
Then he said to them, "Suppose one of you has a friend, and he goes to him at midnight and says, 'Friend, lend me three loaves of bread, because a friend of mine on a journey has come to me, and I have nothing to set before him.' "Then the one inside answers, 'Don't bother me. The door is already locked, and my children are with me in bed. I can't get up and give you anything.' I tell you, though he will not get up and give him the bread because he is his friend, yet because of the man's boldness he will get up and give him as much as he needs. "So I say to you: Ask and it will be given to you; seek and you will find; knock and the door will be opened to you. For everyone who asks receives; he who seeks finds; and to him who knocks, the door will be opened. ~ Luke 11:5-10 NIV
Ask and it will be given to you; seek and you will find; knock and the door will be opened to you. For everyone who asks receives; he who seeks finds; and to him who knocks, the door will be opened. "Which of you, if his son asks for bread, will give him a stone? Or if he asks for a fish, will give him a snake? If you, then, though you are evil, know how to give good gifts to your children, how much more will your Father in heaven give good gifts to those who ask him! ~ Matthew 7:7-11 NIV
This is the confidence we have in approaching God: that if we ask anything according to his will, he hears us. And if we know that he hears us—whatever we ask—we know that we have what we asked of him. ~ 1 John 5:14-15 NIV
Mar 18
by Victoria Robinson
You know you have a true friendship when you can call your friend at midnight. My dearest friend Ann is someone who not only knows she can call late, but actually does! We can talk and laugh at twelve o'clock midnight just as easily as twelve o'clock noon. The truth is every one of us has a "midnight friend"—it is our heavenly Father.
True intimacy in friendship happens in the wee hours of the night. Jesus told the story of a man who went to his friend at midnight to obtain some refreshment of bread for an unexpected guest. I actually have a true friend who supplies me with the refreshment of homemade bread. Iwona makes the most heavenly bread. She starts by grinding her own flour and uses the best ingredients. When we have a bread baking day the rewards are wonderful. I also have the added blessing of her four year-old daughter learning to bake with us. Something that is dear to me, as I have wonderful memories of my precious grandmother teaching me to make bread at an early age.
The friendship Iwona and I share consist of more than just baking bread. She is a true friend who I could turn to in any crisis and I have complete confidence she would be there for me. As wonderful and comforting as that knowledge is, I have an even closer friend who I have total reliance on. Turns out the friend in Jesus' story was not like my bread baking friend. This friend only relented to help because his friend was persistent and bold when requesting bread.
While the concept of being persistent and bold when we ask of our heavenly Father is an important aspect of this story, the concept of a "midnight friend" is a sweet aspect as well. Your heavenly Father has made it clear that He wants to bestow good gifts to us when we ask.
Dearest girlfriends, let us boldy and persistently ask our heavenly Father to bestow good gifts to us, after all, He is our "midnight friend"!
Then he said to them, "Suppose one of you has a friend, and he goes to him at midnight and says, 'Friend, lend me three loaves of bread, because a friend of mine on a journey has come to me, and I have nothing to set before him.' "Then the one inside answers, 'Don't bother me. The door is already locked, and my children are with me in bed. I can't get up and give you anything.' I tell you, though he will not get up and give him the bread because he is his friend, yet because of the man's boldness he will get up and give him as much as he needs. "So I say to you: Ask and it will be given to you; seek and you will find; knock and the door will be opened to you. For everyone who asks receives; he who seeks finds; and to him who knocks, the door will be opened. "Which of you fathers, if your son asks for a fish, will give him a snake instead? Or if he asks for an egg, will give him a scorpion?  If you then, though you are evil, know how to give good gifts to your children, how much more will your Father in heaven give the Holy Spirit to those who ask him!" ~ Luke 11:5-13 NIV 
There are "friends" who pretend to be friends, but there is a friend who sticks closer than a brother. ~ Proverbs 18:24 TLB