Posts Tagged 'grievances'
Jan 20
by Victoria Robinson
Girlfriends, have you ever experienced betrayal? The pain hurts sooo bad! Betrayal is such an ugly sin. As we all know, our Lord and Savior experienced the ultimate betrayal. In the book of Mark, Jesus said the dreaded words, "Here comes my betrayer!" He knew all along this was going to happen. Unlike Jesus, the betrayals in your life have most likely happened unannounced. After the shock subsides, you are left with agonizing pain. The pain in turn has the potential to produce in you a bitter heart. Once this happens, you are now taking on the ugliness of your betrayer.
Just like Jesus, your betrayer has possibly come from those closest to you which might make the thought of forgiveness unimaginable. Yet it is important to stop the cycle of misery by forgiving your betrayer. Think of it as giving yourself a betrayal makeover. Trust me girlfriends, your beauty will shine like your Lord and Savior!
Dearest girlfriends, I pray we would deal with betrayal in a godly manner and allow the forgiveness of our heavenly Father to flow through us.
Yet there are some of you who do not believe." For Jesus had known from the beginning which of them did not believe and who would betray him. ~ John 6:64 NIV
See to it that no one misses the grace of God and that no bitter root grows up to cause trouble and defile many. ~ Hebrews 12:15 NIV
Bear with each other and forgive whatever grievances you may have against one another. Forgive as the Lord forgave you. ~ Colossians 3:13 NIV
Dec 26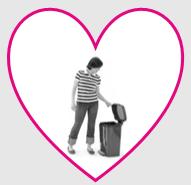 by Victoria Robinson
There are so many things to let go of in life. To accomplish a fulfilling life we must learn to let go of awful things as well as some great things.  Some awful things to let go of are; your past, your hurts, your failures, and your sins. Some great things to let go of are; your wealth, your position, and even your very own life.
God's ways are so often contrary to how we see life.
If I am hurt—I must forgive.

If I want to enjoy life—I must give up sinful pleasures.

If I want to be rich—I must give up my wealth.

If I want to save my life—I must lose it.
Dearest girlfriends, I pray we would allow our heavenly Father to remove all hindrances from our lives, whether awful or great, in order to accomplish a fulfilling life in Christ.
Then He said to them all, "If anyone desires to come after Me, let him deny himself, and take up his cross daily, and follow Me. "For whoever desires to save his life will lose it, but whoever loses his life for My sake will save it. "For what profit is it to a man if he gains the whole world, and is himself destroyed or lost? ~ Luke 9:23-25 NKJV
For Christ's love compels us, because we are convinced that one died for all, and therefore all died. And he died for all, that those who live should no longer live for themselves but for him who died for them and was raised again. ~ 2 Corinthians 5:14-15 NIV
Brothers, I do not consider myself yet to have taken hold of it. But one thing I do: Forgetting what is behind and straining toward what is ahead, I press on toward the goal to win the prize for which God has called me heavenward in Christ Jesus. ~ Philippians 3:13-14 NIV
Bear with each other and forgive whatever grievances you may have against one another. Forgive as the Lord forgave you. ~ Colossians 3:13 NIV
Therefore, since Christ suffered in his body, arm yourselves also with the same attitude, because he who has suffered in his body is done with sin. As a result, he does not live the rest of his earthly life for evil human desires, but rather for the will of God. ~ 1 Peter 4:1-2 NIV
Jesus called them together and said, "You know that the rulers of the Gentiles lord it over them, and their high officials exercise authority over them. Not so with you. Instead, whoever wants to become great among you must be your servant, and whoever wants to be first must be your slave— just as the Son of Man did not come to be served, but to serve, and to give his life as a ransom for many." ~ Matthew 20:25-28 NIV