Posts Tagged 'judgment'
Jan 13
by Victoria Robinson
Is it possible to sin accidentally? Without wrong intention, how can something be considered sin? Yet, in the book of Leviticus we see several examples of accidental sin and the requirement to confess, present a blood offering, and thus be forgiven. Thankfully because of the gracious sacrifice of Jesus Christ's blood offering on the cross, we no longer have to sacrifice animals to pay for our sins.
So whether sin is committed accidentally or knowingly, it is important to confess, ask forgiveness, and make restitution when necessary. The final step in the process is to accept forgiveness which sometimes means forgiving ourselves. Rest assured there is not one sin anyone can commit, outside of rejecting the Savior, where forgiveness is not available.
Dearest girlfriends, let us take all sin seriously, whether we have an "oops sin" or whether we have intentional sin. Praise God for His wonderous forgiveness!
You are guilty and unfit to worship me, if you accidentally touch the dead body of any kind of unclean animal. You are guilty if you find out that you have accidentally touched any waste that comes from a human body. … As soon as you discover that you have committed any of these sins, you must confess what you have done. Then you must bring a female sheep or goat to me as the price for your sin. A priest will sacrifice the animal, and you will be forgiven. ~ Leviticus 5:2-3,5-6 CEV
In fact, the law requires that nearly everything be cleansed with blood, and without the shedding of blood there is no forgiveness. … Christ … has appeared once for all at the end of the ages to do away with sin by the sacrifice of himself. Just as man is destined to die once, and after that to face judgment, so Christ was sacrificed once to take away the sins of many people; and he will appear a second time, not to bear sin, but to bring salvation to those who are waiting for him. ~ Hebrews 9:22,26-28 NIV
 Watch out that no one becomes involved in sexual sin or becomes careless about God as Esau did: he traded his rights as the oldest son for a single meal. And afterwards, when he wanted those rights back again, it was too late, even though he wept bitter tears of repentance. So remember, and be careful. ~ Hebrews 12:16-17 TLB
But if we walk in the light, as he is in the light, we have fellowship with one another, and the blood of Jesus, his Son, purifies us from all sin. If we claim to be without sin, we deceive ourselves and the truth is not in us. If we confess our sins, he is faithful and just and will forgive us our sins and purify us from all unrighteousness. If we claim we have not sinned, we make him out to be a liar and his word has no place in our lives. ~ 1 John 1:7-9 NIV
Dec 16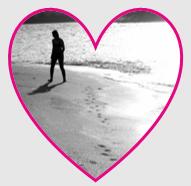 by Victoria Robinson
Another day is coming for all of us. Just what that day will bring depends a great deal upon you. While you reside here on this earth, another day will hold the consequences of your actions today. That can either be good or bad. When you have breathed your last breath on this earth there will be another day known as eternity. Again, your actions now will determine what that day will bring. The Word of God speaks about this as a day of rest for those who have a relationship with the Lord and Savior Jesus Christ. It also describes this day as a day of torment for those who have not received God's gift of eternal life.
Girlfriends, make no mistake, God never told us that if we behave correctly, then there will only be good things in store for us. What He did tell us is that we will be rewarded for our good actions. You might perform great deeds today, and yet tomorrow have a rotten day. But, we are not to lose heart, for the reward of those good deeds will eventually come. One benefit we will always have immediately is a sense of peace, knowing we have conducted ourselves in a manner worthy of the gospel of Christ.
Dearest girlfriends, I pray we would take stock of our behavior and understand the consequences. If you are wondering what your eternity holds, click on the Heaven link and find out how to have eternal life. Heaven 
Do not be deceived: God cannot be mocked. A man reaps what he sows. The one who sows to please his sinful nature, from that nature will reap destruction; the one who sows to please the Spirit, from the Spirit will reap eternal life. Let us not become weary in doing good, for at the proper time we will reap a harvest if we do not give up. Therefore, as we have opportunity, let us do good to all people, especially to those who belong to the family of believers. ~ Galatians 6:7-10 NIV
Just as man is destined to die once, and after that to face judgment, so Christ was sacrificed once to take away the sins of many people; and he will appear a second time, not to bear sin, but to bring salvation to those who are waiting for him. ~ Hebrews 9:27-28 NIV
For if Joshua had given them rest, God would not have spoken later about another day. There remains, then, a Sabbath-rest for the people of God; for anyone who enters God's rest also rests from his own work, just as God did from his. ~ Hebrews 4:8-10 NIV 
Then I saw a new heaven and a new earth, for the first heaven and the first earth had passed away, and there was no longer any sea. I saw the Holy City, the new Jerusalem, coming down out of heaven from God, prepared as a bride beautifully dressed for her husband. And I heard a loud voice from the throne saying, "Now the dwelling of God is with men, and he will live with them. They will be his people, and God himself will be with them and be their God. He will wipe every tear from their eyes. There will be no more death or mourning or crying or pain, for the old order of things has passed away. ~ Revelation 21:1-4 NIV
Then death and Hades were thrown into the lake of fire. The lake of fire is the second death. If anyone's name was not found written in the book of life, he was thrown into the lake of fire. ~ Revelation 20:14-15 NIV
And the devil, who deceived them, was thrown into the lake of burning sulfur, where the beast and the false prophet had been thrown. They will be tormented day and night for ever and ever. ~ Revelation 20:10 NIV
Whatever happens, conduct yourselves in a manner worthy of the gospel of Christ. ~ Philippians 1:27 NIV
But the day of the Lord will come like a thief. The heavens will disappear with a roar; the elements will be destroyed by fire, and the earth and everything in it will be laid bare. Since everything will be destroyed in this way, what kind of people ought you to be? You ought to live holy and godly lives as you look forward to the day of God and speed its coming. That day will bring about the destruction of the heavens by fire, and the elements will melt in the heat. But in keeping with his promise we are looking forward to a new heaven and a new earth, the home of righteousness. So then, dear friends, since you are looking forward to this, make every effort to be found spotless, blameless and at peace with him. ~ 2 Peter 3:10-14 NIV