Posts Tagged 'limitless possibilities'
Jan 09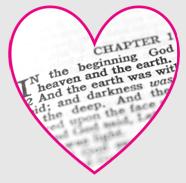 by Victoria Robinson
In the beginning … ahhh those famous first words recorded in the book of Genesis. Beginnings so often start with a sense of great hope and wonderment. This was the fresh starts of all fresh starts. A blank canvas with limitless possibilities. Girlfriends, don't you just love a fresh start? A chance to begin anew with no past mistakes. There are times when we just need to start over.
Spiritually speaking, a new beginning is found in the book of John. That new beginning is found in putting our faith in Jesus Christ, the Son of God. The apostle Paul spoke of this transforming faith in the book of Titus. he said, "… a faith and knowledge resting on the hope of eternal life, which God, who does not lie, promised before the beginning of time …" Acknowledging that a new life is only possible through Jesus Christ is the only way to have a fresh start. In fact, Jesus said to a man named Nicodemus, "I tell you the truth, no one can see the kingdom of God unless he is born again." Born again—let's start over! If this is your desire, click on this Heaven link and learn more. Heaven
If you already have a relationship with Jesus Christ then you surely know what a wonderful feeling it is to be able to "wipe the slate clean" and start over. King David came to a place in his life when he desperately needed to start over. Troubles surrounded him due to his disintegration into a sinful life. The enemy of his soul had enticed him to indulge in lustfully gazing upon a beautiful woman named Bathsheba. This led to sleeping with her apart from marriage as set forth in the Word of God. Once it becomes known to him that Bathsheba is pregnant, we see the actions of a desperate man. So panicked by his circumstances that he engaged in a murderous plot to kill Bathsheba's husband, Uriah. If ever a person needed to start over it was King David.
The good news is David repented and turned his heart back to the Lord. David's fresh start resulted in the Lord speaking these kind words about him after his departure from this world, "… walk before Me as your father David walked, in integrity of heart and in uprightness …"
King David whose life was ravaged by his sinful choices, but who got a fresh start from the heavenly Father, has been memorialized by the Jewish historian, Flavius Josephus.  He wrote, "David was truly a man after God's own heart."
This is an encouraging story when we reach a point in our life where we need a new beginning. If that is where you are today, then praying the very words King David prayed after he repented are appropriate. In the book of Psalms David wrote, "Restore to me the joy of your salvation and grant me a willing spirit, to sustain me."
Near the end of Lamentations, a book of poetry written to lament the destruction of Jerusalem, the prophet Jeremiah makes a plea to the Lord. He says, "Bring us back to you! Give us a fresh start." What a wonderful way to cry out to the Lord when we have a remorseful heart and want to start over!
Dearest girlfriends, let us turn our hearts towards our heavenly Father and receive a new beginning.
In the beginning God created the heavens and the earth. Now the earth was formless and empty, darkness was over the surface of the deep, and the Spirit of God was hovering over the waters. ~ Genesis 1:1-2 NIV
In the beginning was the Word, and the Word was with God, and the Word was God. He was with God in the beginning. … The Word became flesh and made his dwelling among us. We have seen his glory, the glory of the One and Only, who came from the Father, full of grace and truth. ~ John 1:1-2,14 NIV
Paul, a servant of God and an apostle of Jesus Christ for the faith of God's elect and the knowledge of the truth that leads to godliness— a faith and knowledge resting on the hope of eternal life, which God, who does not lie, promised before the beginning of time, ~ Titus 1:1-2 NIV
Now there was a man of the Pharisees named Nicodemus, a member of the Jewish ruling council. He came to Jesus at night and said, "Rabbi, we know you are a teacher who has come from God. For no one could perform the miraculous signs you are doing if God were not with him." In reply Jesus declared, "I tell you the truth, no one can see the kingdom of God unless he is born again." "How can a man be born when he is old?" Nicodemus asked. "Surely he cannot enter a second time into his mother's womb to be born!" Jesus answered, "I tell you the truth, no one can enter the kingdom of God unless he is born of water and the Spirit. Flesh gives birth to flesh, but the Spirit gives birth to spirit. ~ John 3:1-6 NIV
… walk before Me as your father David walked, in integrity of heart and in uprightness … ~ 1 Kings 9:4 NKJV
Have mercy on me, O God, according to your unfailing love; according to your great compassion blot out my transgressions. Wash away all my iniquity and cleanse me from my sin. For I know my transgressions, and my sin is always before me. Against you, you only, have I sinned and done what is evil in your sight, …  Cleanse me with hyssop, and I will be clean; wash me, and I will be whiter than snow. Let me hear joy and gladness; let the bones you have crushed rejoice. Hide your face from my sins and blot out all my iniquity. Create in me a pure heart, O God, and renew a steadfast spirit within me. Do not cast me from your presence or take your Holy Spirit from me. Restore to me the joy of your salvation and grant me a willing spirit, to sustain me. ~ Psalm 51:1-4,7-12 NIV