Posts Tagged 'lord watches'
Jun 04
by Victoria Robinson
It might sound absurd to say, but have you ever considered that the Lord has made a "shady" deal with you? The psalmist says, "The LORD watches over you—the LORD is your shade at your right hand; the sun will not harm you by day, nor the moon by night."
To have a place of shade on a sunny day is so refreshing. That truly is a gift God gives us. Spiritually speaking, we can rest in the shadow of the Almighty. We can do this by dwelling in the shelter of the Most High. Our heavenly father provides a level of protection that is hard to fathom.
It was under the shade of a broom tree that Elijah found comfort and strength from the Lord. He was fleeing for his life and an angel came and prepared food for him and directed his next steps.
Dearest girlfriends, lets us enjoy the "shady" deal our heavenly Father has made with us and find refuge in His protection.
The LORD watches over you— the LORD is your shade at your right hand; the sun will not harm you by day, nor the moon by night. The LORD will keep you from all harm— he will watch over your life; the LORD will watch over your coming and going both now and forevermore. ~ Psalm 121:5-8 NIV
He who dwells in the shelter of the Most High will rest in the shadow of the Almighty. I will say of the LORD, "He is my refuge and my fortress, my God, in whom I trust." ~ Psalm 91:1-2 NIV
She sent a message to Elijah: "You killed my prophets. Now I'm going to kill you! I pray that the gods will punish me even more severely if I don't do it by this time tomorrow." Elijah was afraid when he got her message, and he ran to the town of Beersheba in Judah. He left his servant there, then walked another whole day into the desert. Finally, he came to a large bush and sat down in its shade. He begged the Lord, "I've had enough. Just let me die! I'm no better off than my ancestors." Then he lay down in the shade and fell asleep. Suddenly an angel woke him up and said, "Get up and eat." Elijah looked around, and by his head was a jar of water and some baked bread. He sat up, ate and drank, then lay down and went back to sleep. ~ 1 Kings 19:2-6 CEV
Dec 08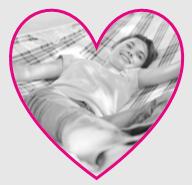 by Victoria Robinson
Relaxation is the sweetest when we have been through a difficult season. The psalmist describes the jubilance of being able to relax so beautifully. He says, "So merciful, this God of ours! The Lord protects the simple and the childlike; I was facing death, and then he saved me. Now I can relax." Didn't that just make you say, "Awww."
Girlfriends, are you in need of relaxation? If so, run and climb up in your heavenly Father's lap and just relax. Relax in the knowledge that He tenderly cares for you and is ever watching over you. He never sleeps or slumbers. He is the one who can be trusted at all times.
Dearest girlfriends, please allow yourself the luxury of relaxation provided by the King of Kings!
Death stared me in the face—I was frightened and sad. Then I cried, "Lord, save me!" How kind he is! How good he is! So merciful, this God of ours! The Lord protects the simple and the childlike; I was facing death, and then he saved me. Now I can relax. For the Lord has done this wonderful miracle for me. He has saved me from death, my eyes from tears, my feet from stumbling. I shall live! Yes, in his presence—here on earth! ~ Psalm 116:3-9 TLB 
Give all your worries and cares to God, for he cares about what happens to you. ~ 1 Peter 5:7 NLT 
He will not let your foot slip— he who watches over you will not slumber; indeed, he who watches over Israel will neither slumber nor sleep. The LORD watches over you— the LORD is your shade at your right hand; the sun will not harm you by day, nor the moon by night. The LORD will keep you from all harm— he will watch over your life; the LORD will watch over your coming and going both now and forevermore. ~ Psalm 121:3-8 NIV