Posts Tagged 'material things'
Jan 26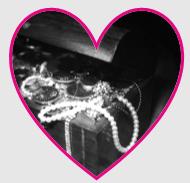 by Victoria Robinson
Are your possessions possessing you? It is so easy to set our hearts on earthly goods instead of focusing on the things of God. There is nothing wrong with having wealth, but it is important to examine our hearts to see if our possessions have gotten us in bondage. We can put all our hope in wealth which is a huge mistake as our heavenly Father has told us, "Cast but a glance at riches, and they are gone …"
You do not have to have great riches to be in bondage. Any possession that becomes your security and hope outside of your heavenly Father will keep you in bondage. But one cure for being possessed by your possessions is to imitate the behavior of the early church found in the book of Acts. Their reliance was not on their possessions to the point of sharing what they had so none amongst them would be in need. Instead of their possessions possessing them, they possessed beautiful hearts and their story is a great inspiration for us today!
A sad story of someone who was more interested in material possessions than in spiritual truths is Lot's wife. She who was so attached to material things that she could not resist turning around to see what was happening to her home, and as a consequence lost everything, even her own life!
Dearest girlfriends, I pray we would let go of anything that is possessing us other than our glorious heavenly Father.
Then he said to them, "Watch out! Be on your guard against all kinds of greed; a man's life does not consist in the abundance of his possessions." ~ Luke 12:15 NIV
All the believers were one in heart and mind. No one claimed that any of his possessions was his own, but they shared everything they had. ~ Acts 4:32 NIV
Sell your possessions and give to the poor. Provide purses for yourselves that will not wear out, a treasure in heaven that will not be exhausted, where no thief comes near and no moth destroys. ~ Luke 12:33 NIV
Since, then, you have been raised with Christ, set your hearts on things above, where Christ is seated at the right hand of God. Set your minds on things above, not on earthly things. ~ Colossians 3:1-2 NIV
As soon as they had brought them out, one of them said, "Flee for your lives! Don't look back, and don't stop anywhere in the plain! Flee to the mountains or you will be swept away!" … But Lot's wife looked back, and she became a pillar of salt. ~ Genesis 19:17,26 NIV