Posts Tagged 'matthew 24'
Mar 11
by Victoria Robinson
I would never consider leaving the door to my house unlocked, yet that is what I sometimes allow to happen spiritually. Through the carelessness of sin I allow the "thief" to come right in and take what he wants. Sometimes I even hold the door open for him so he can carry my possessions away. That is a sad thought!
When you sin it is like giving Satan a key to your life. The apostle Paul gave us a clear example of this when he said, "… don't sin by letting anger gain control over you. Don't let the sun go down while you are still angry, for anger gives a mighty foothold to the Devil." Think of it this way—when someone knocks on your door, do you open it just a little thinking if you do not want them in, you can keep them out? Certainly not! That would be foolish because if their foot could get wedged in, this would give them leverage to push the door open and come right in.
When I accepted Jesus Christ into my heart I not only received the free gift of eternal life, but I received the key to lock the "thief" out. The thief of course is Satan. My sin unlocks the door for him to come pillage my life. Dearest girlfriends, let us stay alert and lock the door so the thief cannot steal from us.
But understand this: If the owner of the house had known at what time of night the thief was coming, he would have kept watch and would not have let his house be broken into. ~ Matthew 24:43 NIV
The thief comes only to steal and kill and destroy; I have come that they may have life, and have it to the full. ~ John 10:10 NIV
And "don't sin by letting anger gain control over you." Don't let the sun go down while you are still angry, for anger gives a mighty foothold to the Devil. ~ Ephesians 4:26-27 NLT
Dec 05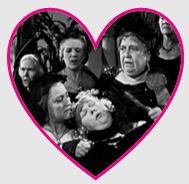 by Victoria Robinson
Arguably, the greatest movie ever made was Gone With The Wind. Sad to say girlfriends, but at times I can really relate to Aunt Pittypat. Her frequently used line was, "Oh, dear, oh dear, where are my smelling salts? I think I shall faint!" Panic and fainting was always the first thing Aunt Pittypat did in a crisis. God's Word tells us to behave very differently. It actually says, "Do not be fainthearted or afraid; do not be terrified or give way to panic before them. For the LORD your God is the one who goes with you to fight for you against your enemies to give you victory."
Whatever situation you are facing in your life, prayer, not panic is the answer. I do not know what makes us think panic will solve anything. In fact in the movie, we read these words on the screen, "Atlanta prayed while onward surged the triumphant Yankees…..Heads were high, but hearts were heavy, as the wounded and the refugees poured into unhappy Georgia…" While Atlanta prayed we find Aunt Pittypat in a flustered voice say, "I can't bear it! Those cannonballs right in my ear! I'll faint every time I hear one! Oh, dear, Yankees in Georgia! How did they ever get in?" Once again God's Word contradicts our fainthearted character. God tells us, "And wars will break out near and far, but don't panic."
Dearest girlfriends, when we are in trouble, let us fall to our knees in prayer instead of fainting in panic.
… Do not be fainthearted or afraid; do not be terrified or give way to panic before them. For the LORD your God is the one who goes with you to fight for you against your enemies to give you victory." ~ Deuteronomy 20:3-4 NIV
And wars will break out near and far, but don't panic. … ~ Matthew 24:6 NLT
For this is the way the holy women of the past who put their hope in God used to make themselves beautiful. … like Sarah, … You are her daughters if you do what is right and do not give way to fear. ~ 1 Peter 3:5-6 NIV