Posts Tagged 'miracles'
Nov 29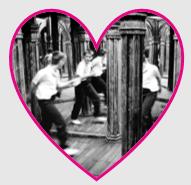 by Victoria Robinson
Are you living in a spiritual house of mirrors? Never being certain of what is real and what is an illusion? Cannot find your way? Our Lord and Savior gave us a picture of illusions just like a house of mirrors in the book of Mark. He speaks of false Christs appearing here and there, performing deceptive signs and miracles.
Being in a house of mirrors is very confusing. While it is true that as long as we live on this earth, we will not know everything, we do not have to live in confusion.  Your heavenly Father is not the author of confusion. The only way to know the truth, is to know the Word of God. Everything else is just an illusion.
Along with knowing the Scriptures we must seek wisdom and guidance when we are in a spiritual house of mirrors. Your heavenly Father is always eager to lavish wisdom and guidance on you. Solomon tells us that there is a proper time and procedure for every matter. The psalmist asked the Lord to guide him in truth.
Dearest girlfriends, I pray we would seek wisdom, guidance and the knowledge found in the Word of God as we navigate this "house of mirrors" called life.
At that time if anyone says to you, 'Look, here is the Christ!' or, 'Look, there he is!' do not believe it. For false Christs and false prophets will appear and perform signs and miracles to deceive the elect—if that were possible. So be on your guard; I have told you everything ahead of time. ~ Mark 13:21-23 NIV
… while evil men and impostors will go from bad to worse, deceiving and being deceived. But as for you, continue in what you have learned and have become convinced of, because you know those from whom you learned it, and how from infancy you have known the holy Scriptures, which are able to make you wise for salvation through faith in Christ Jesus. All Scripture is God-breathed and is useful for teaching, rebuking, correcting and training in righteousness, so that the man of God may be thoroughly equipped for every good work. ~ 2 Timothy 3:13-17 NIV
… the wise heart will know the proper time and procedure. For there is a proper time and procedure for every matter, though a man's misery weighs heavily upon him. ~ Ecclesiastes 8:5-6 NIV
Show me your ways, O LORD, teach me your paths; guide me in your truth and teach me, for you are God my Savior, and my hope is in you all day long. ~ Psalm 25:4-5 NIV
Nov 25
by Victoria Robinson
Today is a great day to look for the sweet moments our heavenly Father so graciously gives us. Even in the midst of trials, God has not left us without something sweet to hold onto. Though it might not seem like much, when you do find even one sweet moment, it is of utmost importance to hold on tightly and savor the sweetness among the bitterness of your difficulties.
Sweet moments are a literal expression of our heavenly Father's love for us. The littlest of niceties can bring the most wonderful thoughts and encouragement just when we need it the most. Whatever you are facing, your heavenly Father has and is providing sweet moments to help alleviate the discomfort you may be experiencing.
When Jesus reminded His disciples He would be going away, it must have been difficult for them to grasp and hold onto the sweet moments they had together. Girlfriends, there were so many wonderful experiences they had together, yet when Jesus died the grief was enormous. Still, they had so much goodness to savor. There were healings, financial miracles, provisions for an unplanned feast for five thousand, even raising people from the dead! If you are pondering your sweet moments, maybe they seem trivial compared to all the disciples had seen. But God gives each of us what we need when we need it. Even the smallest provision in our lives is just as sweet to savor as a feast for five thousand. One loaf of bread in time of need is just as wonderful as all the bread the disciples had served the impromptu guests.
It really comes down to looking for the goodness of our heavenly Father no matter how imperfect your life may be. Dearest girlfriends, let us hold onto the sweet moments our heavenly Father lavishes on us in times of need.
When times are good, be happy; but when times are bad, consider: God has made the one as well as the other. Therefore, a man cannot discover anything about his future. ~ Ecclesiastes 7:14 NIV
Dear children, how brief are these moments before I must go away and leave you! … ~ John 13:33
God makes everything happen at the right time. Yet none of us can ever fully understand all he has done, and he puts questions in our minds about the past and the future. I know the best thing we can do is to always enjoy life, because God's gift to us is the happiness we get from our food and drink and from the work we do. ~ Ecclesiastes 3:11-13 CEV