Posts Tagged 'one thing'
Jun 03
by Victoria Robinson
Girlfriends, do you know how many tears you have cried throughout your days on this earth? Some of you have had many days of sorrow. Others have had less. One thing is for certain, the Word of God tells us there will be sorrows in our journey here. Have you ever pondered thewonderful truth that the psalmist tells us our heavenly Father knows exactly how many tears we have cried? Isn't that a beautiful thought girlfriends? Our heavenly Father is so loving that He has collected your tears in a bottle. He has kept a record of each one in a book. The comfort that brings is overwhelming!
If these are days of sorrow in your life, recognize that each tear that falls to the ground has been seen by your heavenly Father. He cares and is ever-present to hold you securely in His lap and wipe away your tears.
Dearest girlfriends, as the tears of sorrow stream down your face, I pray you would be enraptured with your heavenly Father's comfort.
You keep track of all my sorrows. You have collected all my tears in your bottle. You have recorded each one in your book. ~ Psalm 56:8 NLT
… Here on earth you will have many trials and sorrows. But take heart, because I have overcome the world. ~ 1 John 16:33 NLT
This is why I weep and my eyes overflow with tears. No one is near to comfort me, no one to restore my spirit. My children are destitute because the enemy has prevailed. ~ Lamentations 1:16 NIV
… The Sovereign LORD will wipe away the tears from all faces … ~ Isaiah 25:8 NIV
Dec 30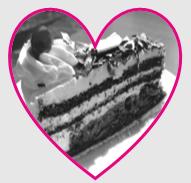 by Victoria Robinson
When you are invited to dinner at someone's home, the one thing you can be certain of is receiving a meal. A sweet dessert … maybe, maybe not. When a meal is provided by someone else, dessert is not necessarily included. There is however someone who has invited everyone to dine and without fail will serve dessert.
Your heavenly Father who so graciously gave us His Son so that we may partake of the meal of eternal life has said, "He who did not spare his own Son, but gave him up for us all—how will he not also, along with him, graciously give us all things?" Having the pleasure of enjoying a sweet dessert after a meal is a treat, an extra bonus to the meal. In the same way, the "dessert" your heavenly Father gives you is all the wonderful treats He gives beyond eternal life. His daily provision, healing, comfort, etc.
Dearest girlfriends, I pray we would look to our heavenly dinner host—our heavenly Father, to provide the sweet "desserts" of life.
He who did not spare his own Son, but gave him up for us all—how will he not also, along with him, graciously give us all things? ~ Romans 8:32 NIV
"Behold, I stand at the door and knock. If anyone hears My voice and opens the door, I will come in to him and dine with him, and he with Me. ~ Revelation 3:20 NKJV
"Therefore I tell you, do not worry about your life, what you will eat or drink; or about your body, what you will wear. Is not life more important than food, and the body more important than clothes? Look at the birds of the air; they do not sow or reap or store away in barns, and yet your heavenly Father feeds them. Are you not much more valuable than they? Who of you by worrying can add a single hour to his life? "And why do you worry about clothes? See how the lilies of the field grow. They do not labor or spin. Yet I tell you that not even Solomon in all his splendor was dressed like one of these. If that is how God clothes the grass of the field, which is here today and tomorrow is thrown into the fire, will he not much more clothe you, O you of little faith? So do not worry, saying, 'What shall we eat?' or 'What shall we drink?' or 'What shall we wear?' For the pagans run after all these things, and your heavenly Father knows that you need them. But seek first his kingdom and his righteousness, and all these things will be given to you as well. ~ Matthew 6:25-33 NIV
"Which of you, if his son asks for bread, will give him a stone? Or if he asks for a fish, will give him a snake? If you, then, though you are evil, know how to give good gifts to your children, how much more will your Father in heaven give good gifts to those who ask him! ~ Matthew 7:9-11 NIV