Posts Tagged 'salve'
Jan 19
by Victoria Robinson
What are the requirements to be considered a lady of refinement? Is it wealth … a noble heritage … good breeding? All of these are essential to be a refined lady. So what if you did not have a pedigreed upbringing? First, recognize your heavenly Father has all the wealth in this world and the world to come. Who else could afford streets of gold? Second, understand you are part of a royal lineage. Third, good breeding is available at all times through the greatest finishing school of all time—the Word of God.
Do not assume that if you grew up with all these assets, you are guaranteed to be a refined lady. In the book of Amos we see some who relied on their earthly riches and lifestyles and yet were not considered to be refined because of the condition of their hearts. A true lady of refinement has the character qualities of her heavenly Father.
Do you desire to be a lady of refinement? If so, accept that you have been adopted into royalty and immerse yourself in the words of your heavenly Father and allow Him to purify your heart. Your heavenly Father desires you to live a life of refinement worthy of His calling.
Dearest girlfriends, let us become ladies of refinement who live up to our noble heritage.
You lie on beds inlaid with ivory and lounge on your couches. You dine on choice lambs and fattened calves. You strum away on your harps like David and improvise on musical instruments. You drink wine by the bowlful and use the finest lotions, but you do not grieve over the ruin of Joseph. Therefore you will be among the first to go into exile; your feasting and lounging will end. ~ Amos 6:4-7 NIV
You say, 'I am rich; I have acquired wealth and do not need a thing.' But you do not realize that you are wretched, pitiful, poor, blind and naked. I counsel you to buy from me gold refined in the fire, so you can become rich; and white clothes to wear, so you can cover your shameful nakedness; and salve to put on your eyes, so you can see. ~ Revelation 3:17-18 NIV
Praise the God and Father of our Lord Jesus Christ for the spiritual blessings that Christ has brought us from heaven! Before the world was created, God had Christ choose us to live with him and to be his holy and innocent and loving people. God was kind  and decided that Christ would choose us to be God's own adopted children. ~ Ephesians 1:3-5 CEV
For the word of God is living and active. Sharper than any double-edged sword, it penetrates even to dividing soul and spirit, joints and marrow; it judges the thoughts and attitudes of the heart. ~ Hebrews 4:12 NIV
Nov 19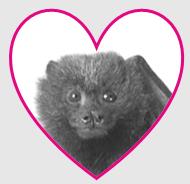 by Victoria Robinson
Some of us would actually be better off if we were blind as a bat. Bats are born blind, but gain eyesight by the time they are seven to nine days old. In addition to being able to see reasonably well, bats fly and guide themselves in the dark by means of a sonar system. Conversely, some of us have spiritual blindness and deafness which leaves us worse off than a bat.
How is your spiritual eyesight? Do you see clearly or are you blinded? One reason we can become blinded is through sin. The apostle Peter showed us that if we lack certain spiritual qualities, we will be nearsighted and blind. If we have hatred in our hearts towards anyone this will cause us to walk in darkness. The only way to overcome hate is through love. The pure love of our Lord and Savior.
Sin will also deafen our ears. King David found himself to have spiritual deafness following his sin. When we sin it causes the word of the Lord to become offensive to us. We tend to stop up our ears when our heavenly Father is speaking.
Dearest Girlfriends, I pray we would ask our heavenly Father to open our spiritual eyes and ears.
For troubles without number surround me; my sins have overtaken me, and I cannot see. … ~ Psalm 40:12 NIV
For this very reason, make every effort to add to your faith goodness; and to goodness, knowledge; and to knowledge, self-control; and to self-control, perseverance; and to perseverance, godliness; and to godliness, brotherly kindness; and to brotherly kindness, love. For if you possess these qualities in increasing measure, they will keep you from being ineffective and unproductive in your knowledge of our Lord Jesus Christ. But if anyone does not have them, he is nearsighted and blind, and has forgotten that he has been cleansed from his past sins. ~ 1 Peter 1:5-9 NIV
Anyone who claims to be in the light but hates his brother is still in the darkness. Whoever loves his brother lives in the light, and there is nothing in him to make him stumble. But whoever hates his brother is in the darkness and walks around in the darkness; he does not know where he is going, because the darkness has blinded him. ~ 1 John 2:9-11 NIV
I am like a deaf man, who cannot hear, like a mute, who cannot open his mouth; I have become like a man who does not hear, whose mouth can offer no reply. ~ Psalm 38:13-14 NIV
To whom can I speak and give warning? Who will listen to me? Their ears are closed so they cannot hear. The word of the LORD is offensive to them; they find no pleasure in it. ~ Jeremiah 6:10 NIV
If anyone turns a deaf ear to the law, even his prayers are detestable. ~ Proverbs 28:9 NIV
I pray also that the eyes of your heart may be enlightened in order that you may know the hope to which he has called you, the riches of his glorious inheritance in the saints, and his incomparably great power for us who believe. … ~ Ephesians 1:18-19 NIV
I counsel you to buy from me gold refined in the fire, so you can become rich; and white clothes to wear, so you can cover your shameful nakedness; and salve to put on your eyes, so you can see. ~ Revelation 3:18 NIV