Posts Tagged 'senses'
Jul 05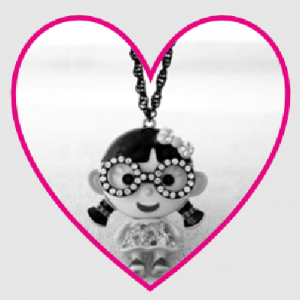 by Victoria Robinson
The psalmist lamented the prosperity of the wicked. Asaph said, "They wear pride like a jeweled necklace …" Asaph also came to realize the sin of envy plaguing his own heart. Oh girlfriends, if only we would be like Asaph and recognize our own shortcomings instead of focusing on the faults of others. The irony is that we are suffering from pride when we envy those who have pride. Thus we choose to wear an ugly necklace ourselves.
Asaph's envy had turned to bitterness. Thankfully he came to understand how close he came to the edge of the cliff. When he comes to his senses he realizes it is the wicked who are on a slippery path and are going to slide over the cliff to destruction.
The wisdom found in Proverbs tells us to wear a beautiful necklace of loyalty and kindness and thus we will find favor with both God and people. It also shows us we will gain a good reputation as well.
Dearest girlfriends, let us not wear an ugly necklace of sin, but instead choose to wear a beautiful necklace of self-reflection by examining our own hearts.
Truly God is good to Israel, to those whose hearts are pure. But as for me, I came so close to the edge of the cliff! My feet were slipping, and I was almost gone. For I envied the proud when I saw them prosper despite their wickedness. They seem to live such a painless life; their bodies are so healthy and strong. They aren't troubled like other people or plagued with problems like everyone else. They wear pride like a jeweled necklace, and their clothing is woven of cruelty. ~ Psalm 73:1-6NLT
So I tried to understand why the wicked prosper. But what a difficult task it is! Then one day I went into your sanctuary, O God, and I thought about the destiny of the wicked. Truly, you put them on a slippery path and send them sliding over the cliff to destruction. In an instant they are destroyed, swept away by terrors. Their present life is only a dream that is gone when they awake. When you arise, O Lord, you will make them vanish from this life. ~ Psalm 73:16-20 NLT
Then I realized how bitter I had become, how pained I had been by all I had seen. I was so foolish and ignorant—I must have seemed like a senseless animal to you. Yet I still belong to you; you are holding my right hand. You will keep on guiding me with your counsel, leading me to a glorious destiny. Whom have I in heaven but you? I desire you more than anything on earth. My health may fail, and my spirit may grow weak, but God remains the strength of my heart; he is mine forever. But those who desert him will perish, for you destroy those who abandon you. But as for me, how good it is to be near God! I have made the Sovereign Lord my shelter, and I will tell everyone about the wonderful things you do. ~ Psalm 73:21-28 NLT
Do not let your heart envy sinners, but always be zealous for the fear of the LORD. There is surely a future hope for you, and your hope will not be cut off. Psalm 23:17-18 NIV
Never let loyalty and kindness get away from you! Wear them like a necklace; write them deep within your heart. Then you will find favor with both God and people, and you will gain a good reputation. ~ Proverbs 3:3-4 NLT
Mar 02
by Victoria Robinson
The prophet Isaiah wisely stated, "Look how your sins have made fools of you." When we sin we are being foolish. In his devastation King David said, "I have sinned greatly in what I have done. Now, O LORD, I beg you, take away the guilt of your servant. I have done a very foolish thing." He had played the fool by going against the Lord's will by taking a census. Job's wife was playing the fool when he rebuked her, "You are talking like a foolish woman. Shall we accept good from God, and not trouble?" She had played the fool by telling her husband, "Are you still holding on to your integrity? Curse God and die!"
When we sin we are playing the fool and will always look foolish, but more importantly destruction will be our constant companion. Dearest girlfriends, I pray we would take sin seriously and stop playing the fool.
David was conscience-stricken after he had counted the fighting men, and he said to the LORD, "I have sinned greatly in what I have done. Now, O LORD, I beg you, take away the guilt of your servant. I have done a very foolish thing." ~ 2 Samuel 24:10 NIV
His wife said to him, "Are you still holding on to your integrity? Curse God and die!" He replied, "You are talking like a foolish woman. Shall we accept good from God, and not trouble?" In all this, Job did not sin in what he said. ~ Job 2:9-10 NIV
Come back to your senses as you ought, and stop sinning; for there are some who are ignorant of God—I say this to your shame. ~ 1 Corinthians 15:34 NIV