Posts Tagged 'serving the lord'
Apr 02
by Victoria Robinson
The story of the Lord calling Elisha to serve as a prophet is a strong reminder that we are to serve the Lord wholeheartedly. As soon as Elisha is called, he goes home to say goodbye to his mother and father. He then proceeds to take his yoke of oxen, slaughter them, and using the wood plow, cooks the meat and prepares a farewell meal for all the people. He essentially burned his bridge and had no intention of turning back. This man had confidence the Lord's call would work out.
Have you "burned your bridge" when the Lord called you, or have you hung on to something just in case your new life did not work out? We should all have the dedication of Elisha when serving the Lord.
Dearest girlfriends, I pray we would "burn" anything that is holding us back from serving the Lord wholeheartedly.
So Elijah went from there and found Elisha son of Shaphat. He was plowing with twelve yoke of oxen, and he himself was driving the twelfth pair. Elijah went up to him and threw his cloak around him. Elisha then left his oxen and ran after Elijah. "Let me kiss my father and mother good-by," he said, "and then I will come with you." "Go back," Elijah replied. "What have I done to you?" So Elisha left him and went back. He took his yoke of oxen and slaughtered them. He burned the plowing equipment to cook the meat and gave it to the people, and they ate. Then he set out to follow Elijah and became his attendant. ~ 1 Kings 19:19-21 NIV
In everything that he undertook in the service of God's temple and in obedience to the law and the commands, he sought his God and worked wholeheartedly. And so he prospered. ~ 2 Chronicles 31:21 NIV
Feb 06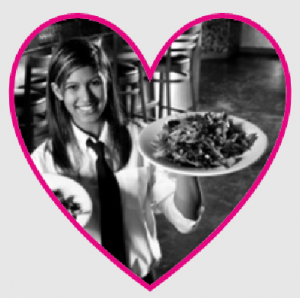 by Victoria Robinson
Don't you just love being waited on at a restaurant or store by someone who is smiling and being attentive to your every need. Hmmm … sounds a lot like the greatest servant of all time, our Lord and Savior! In the book of Matthew He describes his true heart of service as, "… the Son of Man did not come to be served, but to serve, and to give his life as a ransom for many."
Girlfriends, do you serve with a smile or do you sometimes find yourself complaining? It is so easy to allow the enemy to plant the seeds in our hearts of self-centered desires which is the opposite of our Lord and Savior. This in turn grows into weeds of complaining and discontent. It is necessary to take these seeds out of our hearts immediately and allow our Lord and Savior's attitude of "service with a smile" to permeate our hearts.
The only way we can serve with a smile is to serve in the strength God provides. This then will bring glory to God as it says in the book of First Peter, "If anyone serves, he should do it with the strength God provides, so that in all things God may be praised through Jesus Christ."
Dearest girlfriends, I pray we would serve with a smile as we rely on the strength of our heavenly Father and bring glory to Him.
… whoever wants to become great among you must be your servant, and whoever wants to be first must be your slave— just as the Son of Man did not come to be served, but to serve, and to give his life as a ransom for many. ~ Matthew 20:26-28 NIV
Each one should use whatever gift he has received to serve others, faithfully administering God's grace in its various forms. If anyone speaks, he should do it as one speaking the very words of God. If anyone serves, he should do it with the strength God provides, so that in all things God may be praised through Jesus Christ. To him be the glory and the power for ever and ever. Amen. ~ 1 Peter 4:10-11 NIV
Do nothing out of selfish ambition or vain conceit, but in humility consider others better than yourselves. Each of you should look not only to your own interests, but also to the interests of others. Your attitude should be the same as that of Christ Jesus: Who… made himself nothing, taking the very nature of a servant … ~ Philippians 2:3-7 NIV