Posts Tagged 'simon simon'
Mar 25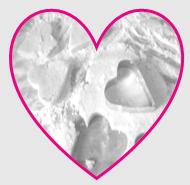 by Victoria Robinson
Being a southern girl, I love to make the perfect biscuit. My favorite biscuit recipe yields a buttery biscuit that has a nice crispness on the outside and a flaky and fluffy inside. And … this is very important … a beautiful tall biscuit! You can click on this link to get my recipe. Flaky Buttermilk Biscuit Hearts One of my signature designs in the kitchen is cutting all sorts of foods into heart shapes and my biscuits are almost always cute hearts. Which brings me to the true point of this devotional. Focusing on hearts. Our spiritual hearts.
When we talk about baking, the subject of sifting flour will inevitably come up. Sometimes you need to sift flour by itself and other times it is necessary to sift with other dry ingredients such as sugar, leavening, etc. Jesus talked about sifting when he told Simon Peter he would be sifted as wheat. Just as in baking, sifting can produce a better product, the sifting of Simon Peter would produce a better person.
We also see two other examples where God referred to sifting in the scriptures. In both cases God was sifting a nation. In both of these example we see God declaring He was going to sift the nation of Israel.
Girlfriends, God wasn't making biscuits when He was allowing Simon Peter to be sifted like wheat. He was concerned with something far more important—the making of a spiritually strong person. The same was true when God sifted the nation of Israel. Is God sifting you today? While the process of being sifted is painful—the results are far greater than a perfect flaky hot biscuit fresh out of the oven. The results are heavenly!
Dearest girlfriends, I pray that just as Simon Peter became a stronger follower of our Lord and Savior, we would also allow God's sifting process to strengthen us.
"Simon, Simon, Satan has asked to sift you as wheat. But I have prayed for you, Simon, that your faith may not fail. And when you have turned back, strengthen your brothers." ~ Luke 22:31-32 NIV
Behold, the name of the Lord comes from afar, Burning with His anger, And His burden is heavy; His lips are full of indignation, And His tongue like a devouring fire. His breath is like an overflowing stream, Which reaches up to the neck, To sift the nations with the sieve of futility; And there shall be a bridle in the jaws of the people, Causing them to err. ~ Isaiah 30:27-28 NKJV
"For surely I will command, And will sift the house of Israel among all nations, As grain is sifted in a sieve; Yet not the smallest grain shall fall to the ground. ~ Amos 9:9 NKJV
Mar 16
by Victoria Robinson
God is my copilot. Really girlfriends, do we really want God in the passenger seat? I know when my life is soaring through the skies, (Which aren't always so friendly!) I want God in the pilot's seat! So why is it I insist on being the one with the controls in my hands? Pure foolishness! My attitude reminds me of Satan when he said, "I will ascend to heaven; I will raise my throne above the stars of God; I will sit enthroned on the mount of assembly, on the utmost heights of the sacred mountain. I will ascend above the tops of the clouds; I will make myself like the Most High." Hmmm … we can certainly see how well that turned out can't we?
Jesus made it abundantly clear that EVERYTHING that happens to us has already been approved by our heavenly father. This can be both comforting and yet discomforting all at the same time. In our foolish sin nature we wish to have full control of what takes place in our lives not choosing to trust our creator's wisdom. Job spoke wisely about the creator when he said, "Whatever he wants to do, he does. So he will do for me all he has planned. He controls my destiny."
Dearest girlfriends, I pray we would turn over the controls of our lives to the only One who can land us safely.
… I will ascend to heaven; I will raise my throne above the stars of God; I will sit enthroned on the mount of assembly, on the utmost heights of the sacred mountain. I will ascend above the tops of the clouds; I will make myself like the Most High. ~ Isaiah 41:13-14 NIV
Nevertheless, his mind concerning me remains unchanged, and who can turn him from his purposes? Whatever he wants to do, he does. So he will do for me all he has planned. He controls my destiny. ~ Job 23:1-14 NLT