Posts Tagged 'sound judgement'
Jun 17
by Victoria Robinson
Girlfriends, picture your favorite high heels. Now imagine the trepidation of walking on a rocky path in those shoes. All you would think about as you manuever along the treacherous path is the potential stumble. Spiritually speaking the way to keep from stumbling is to use common sense and sound judgement. King Solomon tells us to always keep them in mind so that we will walk safely and never stumble.
Common sense and sound judgement are found in the Word of God. Therefor we must know the Word thoroughly in order to avoid walking on a rocky path and stumbling. The book of Proverbs is a rich resource for insuring you walk safely. Delve into it right now so that you will live a long and beautiful life.
Dearest girlfriends, I pray we would take heed of His Word and walk safely in His ways.
My child, use common sense and sound judgment! Always keep them in mind. They will help you to live a long and beautiful life. You will walk safely and never stumble … ~ Proverbs 3:21-23 CEV
He will not let you stumble and fall; the one who watches over you will not sleep. ~ Psalm 121:3 NLT
… I will lead them beside streams of water on a level path where they will not stumble … ~ Jeremiah 31:9 NIV
Dec 29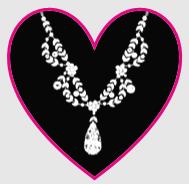 by Victoria Robinson
Girlfriends, jewelry is essential to our wardrobes. We love to ornament our outfits with just the right piece. When I was a small child my aunt Maude gave me a beautiful diamond ring. What a fabulous present! Although, as you can imagine, I can only wear it on my pinky finger now. The psalmist shows us some jewelry that can actually guard our lives. This jewelry is not silver or gold, but rather made from sound judgement and discernment. This will be a beautiful ornament that will grace your neck.
To "purchase" this necklace you must go to the "jewelry store" of God's Word. Continually reading, absorbing and practicing the words of your heavenly Father will make you beautiful and keep you safe. Dearest girlfriends, won't you put on this spiritual necklace and walk in the confidence of the Lord.
… preserve sound judgment and discernment, do not let them out of your sight; they will be life for you, an ornament to grace your neck. Then you will go on your way in safety, and your foot will not stumble; when you lie down, you will not be afraid; when you lie down, your sleep will be sweet. Have no fear of sudden disaster or of the ruin that overtakes the wicked, for the LORD will be your confidence and will keep your foot from being snared. ~ Proverbs 3:21-26 NIV
Your beauty should not come from outward adornment, such as braided hair and the wearing of gold jewelry and fine clothes. Instead, it should be that of your inner self, the unfading beauty of a gentle and quiet spirit, which is of great worth in God's sight. ~ 1 Peter 3:3-4 NIV