Posts Tagged 'sufferings'
Jun 15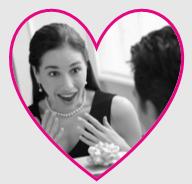 by Victoria Robinson
I am a girl who loves the anticipation of something almost more than I enjoy the event itself. There is an excitement in my heart as I eagerly await. A perfect example is Heaven. While I am excited about spending eternity in such a wonderful place, I am not eager to be there yet. Still the Word of God encourages us to fill our minds with thoughts of Heaven. While it is great to think about Heaven, what else are we to anticipate?
Our Lord and Savior anxiously anticipated dinner with friends. admittedly this was no ordinary dinner party—this would be the last time they would all be dining together on this side of eternity.  Who of us has not anticipated a wonderful glowing evening around a dining table with close friends? The laughter and warmth are life-giving to our hearts.
Girlfriends, I know all of you relate to the apostle Paul's encouragement of looking forward to our new bodies. Many of us have more than one size of clothing hanging in our closets just waiting for the day we lose enough weight to wear that "to die for dress". Be encouraged, for in eternity we will have that perfect body!
Abraham anticipated the Lord's provision when he and Isaac went up on the mountain to make a sacrifice. While at first it seems evident to us that he will be sacrificing his own son, Abraham says things that would indicate he knew the Lord's provision would ultimately come in another way. Twice he uses the term "we" when referring to his return down the mountain. This clearly shows his anticipation of the divine provision which turns out to be a ram caught in a thicket. We need to be just as confident that the Lord will provide for us.
We are to also anticipate the Lord's deliverance in difficult situations. When looking to the Lord for deliverance, the apostle Paul said, "I eagerly expect and hope that I will in no way be ashamed …" He anticipated with full confidence that Christ would be exalted through all his sufferings.
Dearest girlfriends, lets us eagerly anticipate the greatness our Lord is going to bring into our lives here on earth and in eternity.
All creation anticipates the day when it will join God's children in glorious freedom from death and decay. ~ Romans 8:21 NLT 
 But our citizenship is in heaven. And we eagerly await a Savior from there, the Lord Jesus Christ, who, by the power that enables him to bring everything under his control, will transform our lowly bodies so that they will be like his glorious body. ~ Philippians 3:20-21 NIV
Since you have been raised to new life with Christ, set your sights on the realities of heaven, where Christ sits at God's right hand in the place of honor and power. Let heaven fill your thoughts. Do not think only about things down here on earth. For you died when Christ died, and your real life is hidden with Christ in God. And when Christ, who is your real life, is revealed to the whole world, you will share in all his glory. ~ Colossians 3:1-4 NLT
Then at the proper time Jesus and the twelve apostles sat down together at the table. Jesus said, "I have looked forward to this hour with deep longing, anxious to eat this Passover meal with you before my suffering begins. For I tell you now that I won't eat it again until it comes to fulfillment in the Kingdom of God." ~ Luke 22:14-16 NLT
And even we Christians, although we have the Holy Spirit within us as a foretaste of future glory, also groan to be released from pain and suffering. We, too, wait anxiously for that day when God will give us our full rights as his children, including the new bodies he has promised us. Now that we are saved, we eagerly look forward to this freedom. For if you already have something, you don't need to hope for it. But if we look forward to something we don't have yet, we must wait patiently and confidently. ~ Romans 8:23-25 NLT
He said to his servants, "Stay here with the donkey while I and the boy go over there. We will worship and then we will come back to you." Abraham took the wood for the burnt offering and placed it on his son Isaac, and he himself carried the fire and the knife. As the two of them went on together, Isaac spoke up and said to his father Abraham, "Father?" "Yes, my son?" Abraham replied. "The fire and wood are here," Isaac said, "but where is the lamb for the burnt offering?" Abraham answered, "God himself will provide the lamb for the burnt offering, my son." And the two of them went on together. … Abraham looked up and there in a thicket he saw a ram caught by its horns. He went over and took the ram and sacrificed it as a burnt offering instead of his son. So Abraham called that place The LORD Will Provide. And to this day it is said, "On the mountain of the LORD it will be provided." ~ Genesis 22:5-8,13-14 NIV
Yes, and I will continue to rejoice, for I know that through your prayers and the help given by the Spirit of Jesus Christ, what has happened to me will turn out for my deliverance. I eagerly expect and hope that I will in no way be ashamed, but will have sufficient courage so that now as always Christ will be exalted in my body, whether by life or by death. For to me, to live is Christ and to die is gain. ~ Philippians 1:18-21 NIV
Jan 30
by Victoria Robinson
An undeserved life cuts both ways. On the one hand sometimes we get what we do not deserve, such as God's generous mercy. All of us who have received the forgiveness of our sins through Jesus Christ have received the ultimate undeserved mercy there is. Though sometimes we get what we do not deserve as in the case of Joseph who was sold into slavery and then imprisoned. The mercy is easy to accept while undeserved hardship is not.
Though it is sad to say, no life is entirely free of undeserved hardships. What is most important is how we handle these situations. Girlfriends,  I wish I could say these hardships are never ordained by our heavenly Father, but that is not the truth. Our unjust sufferings are just one way our heavenly Father helps us to follow in His Son's steps. Jesus suffered unjustly so that you and I could spend eternity in a place called heaven. That, sweet girlfriends, is how we should look at undeserved hardships. In other words, like Jesus, we should focus not on the pain, but on the beauty of our heavenly Father's greater plan and the comfort our suffering will bring others. As in the case of Joseph, his entire family was rescued from starvation. Yes, I know, even his wicked brothers who meant to harm him. Yet in his godliness Joseph told his brothers, "You intended to harm me, but God intended it for good to accomplish what is now being done, the saving of many lives."
Dearest girlfriends, as difficult as it is let us embrace the undeserved life we are living, both in the good times and bad.
… For it pleased God in his kindness to choose me and call me, even before I was born! What undeserved mercy! ~ Galatians 1:15 NLT
For I was forcibly carried off from the land of the Hebrews, and even here I have done nothing to deserve being put in a dungeon. ~ Genesis 40:15 NIV
And so we keep on praying for you, that our God will make you worthy of the life to which he called you. And we pray that God, by his power, will fulfill all your good intentions and faithful deeds. Then everyone will give honor to the name of our Lord Jesus because of you, and you will be honored along with him. This is all made possible because of the undeserved favor of our God and Lord, Jesus Christ. ~ 2 Thessalonians 1:11-12 NLT
And if they are saved by God's kindness, then it is not by their good works. For in that case, God's wonderful kindness would not be what it really is—free and undeserved. ~ Romans 11:6 NLT
The LORD is compassionate and gracious, slow to anger, abounding in love. He will not always accuse, nor will he harbor his anger forever; he does not treat us as our sins deserve or repay us according to our iniquities. ~ Psalm 103:8-10 NIV
For I am the least of the apostles and do not even deserve to be called an apostle, because I persecuted the church of God. But by the grace of God I am what I am, and his grace to me was not without effect. No, I worked harder than all of them—yet not I, but the grace of God that was with me. ~ 1 Corinthians 15:9-10 NIV
For it is commendable if a man bears up under the pain of unjust suffering because he is conscious of God. But how is it to your credit if you receive a beating for doing wrong and endure it? But if you suffer for doing good and you endure it, this is commendable before God. To this you were called, because Christ suffered for you, leaving you an example, that you should follow in his steps. "He committed no sin, and no deceit was found in his mouth." When they hurled their insults at him, he did not retaliate; when he suffered, he made no threats. Instead, he entrusted himself to him who judges justly. ~ 1 Peter 2:19-23 NIV
His brothers then came and threw themselves down before him. "We are your slaves," they said. But Joseph said to them, "Don't be afraid. Am I in the place of God? You intended to harm me, but God intended it for good to accomplish what is now being done, the saving of many lives. So then, don't be afraid. I will provide for you and your children." And he reassured them and spoke kindly to them. ~ Genesis 50:18-21 NIV
If you have not received the free gift of eternal life, please click here:  Heaven
But we see Jesus, who was made a little lower than the angels, now crowned with glory and honor because he suffered death, so that by the grace of God he might taste death for everyone. ~ Hebrews 2:9 NIV