Posts Tagged 'teenage friends'
Mar 31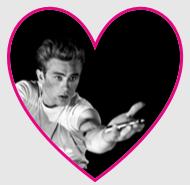 by Victoria Robinson
There are many rebels without a cause shown in the Word of God. One who stands out is of course Satan, who took a stand and now will go down in flames for his rebellion. What a price to pay!
The great classic movie, Rebel Without a Cause, has a very emotional bittersweet ending. Of the three teenage friends, sadly the character played by Sal Mineo, Plato, loses his life. The main character, Jim, played by James Dean, reunites with his father after a lengthy troubled relationship. Natalie Wood, who plays Judy, survives the horrific ordeal. Plato died without a cause—unlike some martyrs who gave their life like Stephen who was stoned for the cause of Jesus Christ. There are also many other rebels with a cause who lived unselfish lives for the gospel of Jesus Christ. None are illustrated more beautifully than the bittersweet story of our Lord and Savior's willingness to give His life for us.
The only rebelliousness we should ever be found guilty of is defying what goes against the Word of God. The apostles Peter and John defied the authorities when they were commanded not to speak in the name of Jesus. They said, "Judge for yourselves whether it is right in God's sight to obey you rather than God. For we cannot help speaking about what we have seen and heard."
Still, there are plenty of causes that are not worth dying for. Sin is always at the root of a rebellious heart that defies our heavenly Father. In that light we should always understand the Word of God tells us if we cry out to God with a repentant heart there is forgiveness.
Dearest girlfriends, let us be rebels with a cause—the gospel of Jesus Christ.
Some became fools through their rebellious ways and suffered affliction because of their iniquities. They loathed all food and drew near the gates of death. Then they cried to the LORD in their trouble, and he saved them from their distress. He sent forth his word and healed them; he rescued them from the grave. Let them give thanks to the LORD for his unfailing love and his wonderful deeds for men. Let them sacrifice thank offerings and tell of his works with songs of joy. ~ Psalm 107:17- NIV
How you have fallen from heaven, O morning star, son of the dawn! You have been cast down to the earth, you who once laid low the nations! You said in your heart, "I will ascend to heaven; I will raise my throne above the stars of God; I will sit enthroned on the mount of assembly, on the utmost heights of the sacred mountain. I will ascend above the tops of the clouds; I will make myself like the Most High." But you are brought down to the grave, to the depths of the pit. ~ Isaiah 14:12-15 NIV
But these people have stubborn and rebellious hearts; they have turned aside and gone away. They do not say to themselves, 'Let us fear the LORD our God, who gives autumn and spring rains in season, who assures us of the regular weeks of harvest.' Your wrongdoings have kept these away; your sins have deprived you of good. ~ Jeremiah 5:23-25 NIV 
"See, O LORD, how distressed I am! I am in torment within, and in my heart I am disturbed, for I have been most rebellious. Outside, the sword bereaves; inside, there is only death. ~ Lamentations 1:20 NIV
For by his great power he rules forever. He watches every movement of the nations; let no rebel rise in defiance. ~ Psalm 66:7 NLT
When they heard this, they were furious and gnashed their teeth at him. But Stephen, full of the Holy Spirit, looked up to heaven and saw the glory of God, and Jesus standing at the right hand of God. "Look," he said, "I see heaven open and the Son of Man standing at the right hand of God." At this they covered their ears and, yelling at the top of their voices, they all rushed at him, dragged him out of the city and began to stone him. … While they were stoning him, Stephen prayed, "Lord Jesus, receive my spirit." Then he fell on his knees and cried out, "Lord, do not hold this sin against them." When he had said this, he fell asleep. ~ Acts 7:54-60 NIV
Then they called them in again and commanded them not to speak or teach at all in the name of Jesus. But Peter and John replied, "Judge for yourselves whether it is right in God's sight to obey you rather than God. For we cannot help speaking about what we have seen and heard." ~ Acts 4:18-20 NIV 
Rescue me from my rebellion, for even fools mock me when I rebel. ~ Psalm 39:8 NLT