Posts Tagged 'torment'
Jan 15
by Victoria Robinson
The wonderful provision of our heavenly Father is the only provision we should desire. It is better to do without something rather than to provide for ourselves. There are so many examples in the Word of God where people felt they were not receiving from God what they needed and thus went about providing for themselves. What a disastrous decision! The prophet Isaiah warns that providing for yourself will result in torment.
I am in no way referring to being lazy or irresponsible. There are certainly examples of godly people providing for themselves and their household. God has made it clear that if we are able to work and will not, we should not have food to eat. The difference is to look at where your trust and reliance is set? Yourself or Him? We are never to rely on our own provisions.
To put this into perspective, here we have a provider who owns the world and everything in it, and yet in our foolishness we think we can do better than Him. Dearest girlfriends, let us look only to our heavenly Father for the provisions we need and trust in Him alone.
Who among you fears the LORD and obeys the word of his servant? Let him who walks in the dark, who has no light, trust in the name of the LORD and rely on his God. But now, all you who light fires and provide yourselves with flaming torches, go, walk in the light of your fires and of the torches you have set ablaze. This is what you shall receive from my hand: You will lie down in torment. ~ Isaiah 50:10-11 NIV
I have no need of a bull from your stall or of goats from your pens, for every animal of the forest is mine, and the cattle on a thousand hills. I know every bird in the mountains, and the creatures of the field are mine. If I were hungry I would not tell you, for the world is mine, and all that is in it. ~ Psalm 50:9-12 NIV
She is like the merchant ships, bringing her food from afar. She gets up while it is still dark; she provides food for her family and portions for her servant girls. She considers a field and buys it; out of her earnings she plants a vineyard. She sets about her work vigorously; her arms are strong for her tasks. She sees that her trading is profitable, and her lamp does not go out at night. … She watches over the affairs of her household and does not eat the bread of idleness. ~ Proverbs 31:14-18,27 NIV
For even when we were with you, we gave you this rule: "If a man will not work, he shall not eat." We hear that some among you are idle. They are not busy; they are busybodies. Such people we command and urge in the Lord Jesus Christ to settle down and earn the bread they eat. ~ 2 Thessalonians 3:10-12 NIV
How many are your works, O LORD! In wisdom you made them all; the earth is full of your creatures. There is the sea, vast and spacious, teeming with creatures beyond number— living things both large and small. There the ships go to and fro, and the leviathan, which you formed to frolic there. These all look to you to give them their food at the proper time. When you give it to them, they gather it up; when you open your hand, they are satisfied with good things. ~ Psalm 104:24-28 NIV
Dec 16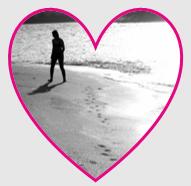 by Victoria Robinson
Another day is coming for all of us. Just what that day will bring depends a great deal upon you. While you reside here on this earth, another day will hold the consequences of your actions today. That can either be good or bad. When you have breathed your last breath on this earth there will be another day known as eternity. Again, your actions now will determine what that day will bring. The Word of God speaks about this as a day of rest for those who have a relationship with the Lord and Savior Jesus Christ. It also describes this day as a day of torment for those who have not received God's gift of eternal life.
Girlfriends, make no mistake, God never told us that if we behave correctly, then there will only be good things in store for us. What He did tell us is that we will be rewarded for our good actions. You might perform great deeds today, and yet tomorrow have a rotten day. But, we are not to lose heart, for the reward of those good deeds will eventually come. One benefit we will always have immediately is a sense of peace, knowing we have conducted ourselves in a manner worthy of the gospel of Christ.
Dearest girlfriends, I pray we would take stock of our behavior and understand the consequences. If you are wondering what your eternity holds, click on the Heaven link and find out how to have eternal life. Heaven 
Do not be deceived: God cannot be mocked. A man reaps what he sows. The one who sows to please his sinful nature, from that nature will reap destruction; the one who sows to please the Spirit, from the Spirit will reap eternal life. Let us not become weary in doing good, for at the proper time we will reap a harvest if we do not give up. Therefore, as we have opportunity, let us do good to all people, especially to those who belong to the family of believers. ~ Galatians 6:7-10 NIV
Just as man is destined to die once, and after that to face judgment, so Christ was sacrificed once to take away the sins of many people; and he will appear a second time, not to bear sin, but to bring salvation to those who are waiting for him. ~ Hebrews 9:27-28 NIV
For if Joshua had given them rest, God would not have spoken later about another day. There remains, then, a Sabbath-rest for the people of God; for anyone who enters God's rest also rests from his own work, just as God did from his. ~ Hebrews 4:8-10 NIV 
Then I saw a new heaven and a new earth, for the first heaven and the first earth had passed away, and there was no longer any sea. I saw the Holy City, the new Jerusalem, coming down out of heaven from God, prepared as a bride beautifully dressed for her husband. And I heard a loud voice from the throne saying, "Now the dwelling of God is with men, and he will live with them. They will be his people, and God himself will be with them and be their God. He will wipe every tear from their eyes. There will be no more death or mourning or crying or pain, for the old order of things has passed away. ~ Revelation 21:1-4 NIV
Then death and Hades were thrown into the lake of fire. The lake of fire is the second death. If anyone's name was not found written in the book of life, he was thrown into the lake of fire. ~ Revelation 20:14-15 NIV
And the devil, who deceived them, was thrown into the lake of burning sulfur, where the beast and the false prophet had been thrown. They will be tormented day and night for ever and ever. ~ Revelation 20:10 NIV
Whatever happens, conduct yourselves in a manner worthy of the gospel of Christ. ~ Philippians 1:27 NIV
But the day of the Lord will come like a thief. The heavens will disappear with a roar; the elements will be destroyed by fire, and the earth and everything in it will be laid bare. Since everything will be destroyed in this way, what kind of people ought you to be? You ought to live holy and godly lives as you look forward to the day of God and speed its coming. That day will bring about the destruction of the heavens by fire, and the elements will melt in the heat. But in keeping with his promise we are looking forward to a new heaven and a new earth, the home of righteousness. So then, dear friends, since you are looking forward to this, make every effort to be found spotless, blameless and at peace with him. ~ 2 Peter 3:10-14 NIV