Posts Tagged 'true heart'
Feb 15
by Victoria Robinson
One of the ploys of the enemy of our souls is to get us to play games. More specifically spiritual games. In other words, to live a life not motivated by a sincere heart. It can become so easy to play games by putting on a holy facade out of fear others will see who we really are. My favorite people are those who just allow you to see them as they really are—no games!
The most dangerous game you can play is to pretend to be something you are not in front of your heavenly Father, who by the way, knows your true heart regardless of your outer behavior.
The wisdom of this world tells us we need to play the game of keeping up appearances, while the wisdom of God guides us to live a life of honesty and sincerity. Dearest girlfriends, let us live honest and sincere lives that reflect our heavenly Father's wonderful character.
We can be proud of our clear conscience. We have always lived honestly and sincerely, especially when we were with you. And we were guided by God's wonderful kindness instead of by the wisdom of this world. ~ 2 Corinthians 1:12 CEV
Nothing is hidden from God! He sees through everything, and we will have to tell him the truth. ~ Hebrews 4:13 CEV
Feb 06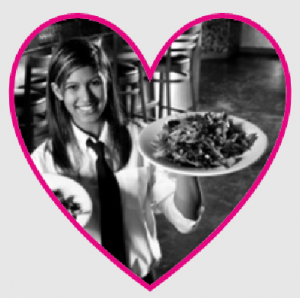 by Victoria Robinson
Don't you just love being waited on at a restaurant or store by someone who is smiling and being attentive to your every need. Hmmm … sounds a lot like the greatest servant of all time, our Lord and Savior! In the book of Matthew He describes his true heart of service as, "… the Son of Man did not come to be served, but to serve, and to give his life as a ransom for many."
Girlfriends, do you serve with a smile or do you sometimes find yourself complaining? It is so easy to allow the enemy to plant the seeds in our hearts of self-centered desires which is the opposite of our Lord and Savior. This in turn grows into weeds of complaining and discontent. It is necessary to take these seeds out of our hearts immediately and allow our Lord and Savior's attitude of "service with a smile" to permeate our hearts.
The only way we can serve with a smile is to serve in the strength God provides. This then will bring glory to God as it says in the book of First Peter, "If anyone serves, he should do it with the strength God provides, so that in all things God may be praised through Jesus Christ."
Dearest girlfriends, I pray we would serve with a smile as we rely on the strength of our heavenly Father and bring glory to Him.
… whoever wants to become great among you must be your servant, and whoever wants to be first must be your slave— just as the Son of Man did not come to be served, but to serve, and to give his life as a ransom for many. ~ Matthew 20:26-28 NIV
Each one should use whatever gift he has received to serve others, faithfully administering God's grace in its various forms. If anyone speaks, he should do it as one speaking the very words of God. If anyone serves, he should do it with the strength God provides, so that in all things God may be praised through Jesus Christ. To him be the glory and the power for ever and ever. Amen. ~ 1 Peter 4:10-11 NIV
Do nothing out of selfish ambition or vain conceit, but in humility consider others better than yourselves. Each of you should look not only to your own interests, but also to the interests of others. Your attitude should be the same as that of Christ Jesus: Who… made himself nothing, taking the very nature of a servant … ~ Philippians 2:3-7 NIV