Posts Tagged 'unconditional love'
Feb 07
by Victoria Robinson
Your heavenly Father is all-powerful. Therefore, there is naturally a fearful nature of our relationship with Him. The Word of God clearly tells us, ".. what does the LORD your God ask of you but to fear the LORD your God …"   However, fear can be a complex concept. While we are to have complete respect and fear for the Lord, we are also told there is no fear in love. His love for us gives us the freedom to not fear Him for the punishment of all our sins, as He has paid the ultimate price through the sacrifice of His Son. His unconditional love assures us we have a secure relationship with Him. In fact in the book of Hebrews we read these wonderful words of encouragement, "Their sins and lawless acts I will remember no more." That is how we can rely on the confidence of His love.
Girlfriends, if you have accepted Jesus Christ into your heart, you do not need anymore to fear the retribution of your heavenly Father. Dearest girlfriends, I pray we would rely on the confidence of His love and not live a fearful life.
And so we know and rely on the love God has for us. God is love. Whoever lives in love lives in God, and God in him. In this way, love is made complete among us so that we will have confidence on the day of judgment, because in this world we are like him. There is no fear in love. But perfect love drives out fear, because fear has to do with punishment. The one who fears is not made perfect in love. ~ 1 John 4:16-18 NIV
Let those who fear the LORD say: "His love endures forever." ~ Psalm 118:4 NIV
And by that will, we have been made holy through the sacrifice of the body of Jesus Christ once for all. … "Their sins and lawless acts I will remember no more." And where these have been forgiven, there is no longer any sacrifice for sin. ~
Hebrews 10:10,17-18 NIV
Nov 23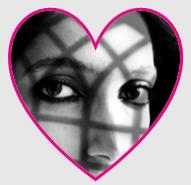 by Victoria Robinson
Do you find yourself hiding in the shadows when you approach your heavenly Father? When we are enshrouded in our sin, we tend to not come before the throne of God bravely. This is how we find the infamous Adam and Eve after they had committed sin.
Our sin places us in a shameful place. We do not want to look our heavenly Father in the face. I grew up with a grandfather who dearly loved me. However, he did portray a harsh exterior at times. I remember breaking a piece of antique marble at his house. I was gripped with fear, not because I had any concern of physical harm, instead a fear based on not wanting to be rejected by him because of my misstep. I shall never forget how after I confessed what had taken place, he lovingly held me as I sobbed. He showed me the kindness I did not deserve. This is a picture of our heavenly Father's unconditional love for us. All we need to do is come to Him with a transparency of our sin and allow Him to embrace us lovingly.
The foolishness of hiding our sins from God is brought to light in the book of Jeremiah. Our heavenly Father tells us He is closely watching us, sees all our sins, and that we cannot hope to hide from Him.
We should come bravely to Him knowing He has already told us that He understands our weaknesses. He is waiting at all times for His children to crawl up in His lap and share their missteps. Dearest girlfriends, please stop hiding in the shadow of iniquity, but come bravely before the throne of our merciful God.
Jesus understands every weakness of ours, because he was tempted in every way that we are. But he did not sin! So whenever we are in need, we should come bravely before the throne of our merciful God. There we will be treated with undeserved kindness, and we will find help. Hebrews 4:15-16 CEV
Then the man and his wife heard the sound of the LORD God as he was walking in the garden in the cool of the day, and they hid from the LORD God among the trees of the garden. But the LORD God called to the man, "Where are you?" He answered, "I heard you in the garden, and I was afraid because I was naked; so I hid." ~ Genesis 3:8-10 NIV
For I am closely watching you, and I see every sin. You cannot hope to hide from me. ~ Jeremiah 16:17 TLB
Seek the Lord while you can find him. Call on him now while he is near. Let the people turn from their wicked deeds. Let them banish from their minds the very thought of doing wrong! Let them turn to the Lord that he may have mercy on them. Yes, turn to our God, for he will abundantly pardon. ~ Isaiah 55:6-7 NLT