Posts Tagged 'weeds'
Jun 08
by Victoria Robinson
I love gardens and architecture, so as I ponder the words King David penned concerning his desires for his children, it paints a beautiful picture in my mind. He writes, "May our sons flourish in their youth like well-nurtured plants. May our daughters be like graceful pillars, carved to beautify a palace." I love how Matthew Henry so beautifully illuminates this passage.
It adds much to the comfort and happiness of parents in this world to see their children promising and likely to do well. First, It is pleasant to see our sons as plants grown up in their youth, as olive-plants, the planting of the Lord—to see them as plants, not as weeds, not as thorns,—to see them as plants growing great, not withered and blasted,—to see them of a healthful constitution, a quick capacity, a towardly disposition, and especially of a pious inclination, likely to bring forth fruit unto God in their day,—to see them in their youth, their growing time, increasing in every thing that is good, growing wiser and better, till they grow strong in spirit. Secondly, It is no less desirable to see our daughters as corner-stones, or corner-pillars, polished after the similitude of a palace, or temple. By daughters families are united and connected, to their mutual strength, as the parts of a building are by the corner-stones; and when they are graceful and beautiful both in body and mind they are then polished after the similitude of a nice and curious structure. When we see our daughters well-established and stayed with wisdom and discretion, as corner-stones are fastened in the building,—when we see them by faith united to Christ, as the chief corner-stone, adorned with the graces of God's Spirit, which are the polishing of that which is naturally rough, and become women professing godliness,—when we see them purified and consecrated to God as living temples, we think ourselves happy in them.

Matthew Henry, Matthew Henry's Commentary on the Bible
Girlfriends, we need to always give thanks for the gift our heavenly Father has given us—our children. We must be diligent to pray that our sons will be well-nurtured plants and our daughters graceful pillars. We also recognize the truth that just like King David's offspring, our children will make their own decisions as they mature and grow into adults. Even when they choose to travel down paths contrary to the Word of God, we must remain steadfast knowing our prayers align with His divine will.
Dearest girlfriends, let us faithfully pray for not only our children, but all those the Lord has placed around us.
May our sons flourish in their youth like well-nurtured plants. May our daughters be like graceful pillars, carved to beautify a palace. ~ Psalm 144:12 NLT
Children are a gift from the Lord; they are a reward from him. ~ Psalm 127:3 NLT 
This is the confidence we have in approaching God: that if we ask anything according to his will, he hears us. And if we know that he hears us—whatever we ask—we know that we have what we asked of him. ~ 1 John 5:14-15 NIV
Feb 06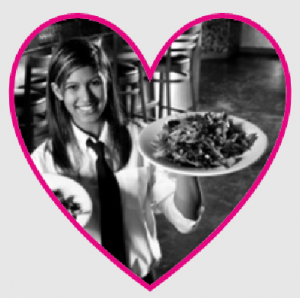 by Victoria Robinson
Don't you just love being waited on at a restaurant or store by someone who is smiling and being attentive to your every need. Hmmm … sounds a lot like the greatest servant of all time, our Lord and Savior! In the book of Matthew He describes his true heart of service as, "… the Son of Man did not come to be served, but to serve, and to give his life as a ransom for many."
Girlfriends, do you serve with a smile or do you sometimes find yourself complaining? It is so easy to allow the enemy to plant the seeds in our hearts of self-centered desires which is the opposite of our Lord and Savior. This in turn grows into weeds of complaining and discontent. It is necessary to take these seeds out of our hearts immediately and allow our Lord and Savior's attitude of "service with a smile" to permeate our hearts.
The only way we can serve with a smile is to serve in the strength God provides. This then will bring glory to God as it says in the book of First Peter, "If anyone serves, he should do it with the strength God provides, so that in all things God may be praised through Jesus Christ."
Dearest girlfriends, I pray we would serve with a smile as we rely on the strength of our heavenly Father and bring glory to Him.
… whoever wants to become great among you must be your servant, and whoever wants to be first must be your slave— just as the Son of Man did not come to be served, but to serve, and to give his life as a ransom for many. ~ Matthew 20:26-28 NIV
Each one should use whatever gift he has received to serve others, faithfully administering God's grace in its various forms. If anyone speaks, he should do it as one speaking the very words of God. If anyone serves, he should do it with the strength God provides, so that in all things God may be praised through Jesus Christ. To him be the glory and the power for ever and ever. Amen. ~ 1 Peter 4:10-11 NIV
Do nothing out of selfish ambition or vain conceit, but in humility consider others better than yourselves. Each of you should look not only to your own interests, but also to the interests of others. Your attitude should be the same as that of Christ Jesus: Who… made himself nothing, taking the very nature of a servant … ~ Philippians 2:3-7 NIV