Posts Tagged 'wings'
Jan 26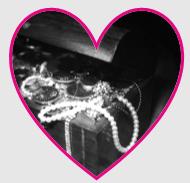 by Victoria Robinson
Are your possessions possessing you? It is so easy to set our hearts on earthly goods instead of focusing on the things of God. There is nothing wrong with having wealth, but it is important to examine our hearts to see if our possessions have gotten us in bondage. We can put all our hope in wealth which is a huge mistake as our heavenly Father has told us, "Cast but a glance at riches, and they are gone …"
You do not have to have great riches to be in bondage. Any possession that becomes your security and hope outside of your heavenly Father will keep you in bondage. But one cure for being possessed by your possessions is to imitate the behavior of the early church found in the book of Acts. Their reliance was not on their possessions to the point of sharing what they had so none amongst them would be in need. Instead of their possessions possessing them, they possessed beautiful hearts and their story is a great inspiration for us today!
A sad story of someone who was more interested in material possessions than in spiritual truths is Lot's wife. She who was so attached to material things that she could not resist turning around to see what was happening to her home, and as a consequence lost everything, even her own life!
Dearest girlfriends, I pray we would let go of anything that is possessing us other than our glorious heavenly Father.
Then he said to them, "Watch out! Be on your guard against all kinds of greed; a man's life does not consist in the abundance of his possessions." ~ Luke 12:15 NIV
All the believers were one in heart and mind. No one claimed that any of his possessions was his own, but they shared everything they had. ~ Acts 4:32 NIV
Sell your possessions and give to the poor. Provide purses for yourselves that will not wear out, a treasure in heaven that will not be exhausted, where no thief comes near and no moth destroys. ~ Luke 12:33 NIV
Since, then, you have been raised with Christ, set your hearts on things above, where Christ is seated at the right hand of God. Set your minds on things above, not on earthly things. ~ Colossians 3:1-2 NIV
As soon as they had brought them out, one of them said, "Flee for your lives! Don't look back, and don't stop anywhere in the plain! Flee to the mountains or you will be swept away!" … But Lot's wife looked back, and she became a pillar of salt. ~ Genesis 19:17,26 NIV
Jan 11
by Victoria Robinson
Girlfriends, please do not imitate an ostrich when you minister. That is because an ostrich is not known for it's love. The truth is, an ostrich has a downright horrible reputation when it comes to love. She does not even protect her own eggs and ignores her young as if they weren't even hers. In the book of Job we see the reason for her terrible behavior. The Lord told us it is because He has deprived the ostrich of wisdom.
Not so, with you my sweet girlfriends! God's will for your life is to fill you with wisdom. One of the aspects of wisdom is to understand that ministry without love is meaningless. There is a parallel found in the picture of an ostrich found in the book of Job and the correct way to minister found in the book of First Corinthians.
First we see the ostrich actually has great ability in being a swift runner, but this certainly does not overcome her lack of love. Then we see the apostle Paul warning us about what would appear to be an impressive ministry without love. The outcomes of ministry without love include: only making noise, not doing any good, being worth nothing, and is of no value.
Dearest girlfriends, I pray we would take our ministry cues from our loving heavenly Father and not the unloving ostrich.
"The ostrich flaps her wings grandly but has no true motherly love. She lays her eggs on top of the earth, to warm them in the dust. She forgets that someone may step on them and crush them, or the wild animals destroy them. She ignores her young as though they weren't her own and is unconcerned though they die, for God has deprived her of wisdom. But whenever she jumps up to run, she passes the swiftest horse with its rider. ~ Job 39:13-18 TLB
If I had the gift of being able to speak in other languages without learning them and could speak in every language there is in all of heaven and earth, but didn't love others, I would only be making noise. If I had the gift of prophecy and knew all about what is going to happen in the future, knew everything about everything, but didn't love others, what good would it do? Even if I had the gift of faith so that I could speak to a mountain and make it move, I would still be worth nothing at all without love. If I gave everything I have to poor people, and if I were burned alive for preaching the Gospel but didn't love others, it would be of no value whatever. Love is very patient and kind, never jealous or envious, never boastful or proud, never haughty or selfish or rude. Love does not demand its own way. It is not irritable or touchy. It does not hold grudges and will hardly even notice when others do it wrong. It is never glad about injustice, but rejoices whenever truth wins out. If you love someone, you will be loyal to him no matter what the cost. You will always believe in him, always expect the best of him, and always stand your ground in defending him. All the special gifts and powers from God will someday come to an end, but love goes on forever. ~ 1 Corinthians 13:1-8 TLB
For this reason, since the day we heard about you, we have not stopped praying for you and asking God to fill you with the knowledge of his will through all spiritual wisdom and understanding. ~ Colossians 1:9 NIV
Our love for each other proves that we have gone from death to life. But if you don't love each other, you are still under the power of death. ~ 1 John 3:14 CEV