Posts Tagged 'words of god'
Jan 24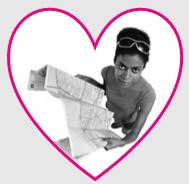 by Victoria Robinson
There once was a man named Jacob who had total assurance that God was his constant companion throughout his life. Sounds so comforting to think of his thoughts recorded in the book of Genesis, "… God, who answered me in the day of my distress and who has been with me wherever I have gone." God had assured him earlier in his life that, "I am with you and will watch over you wherever you go …"
The psalmist also proclaimed great hope that the Lord would never abandon him. Girlfriends, rejoice in the fact we have that same hope. Whatever you may be dealing with in your life today, rest assured God is with you at all times and will never leave your side.
Dearest girlfriends, let us be strong and courageous allowing the words of God to comfort us in knowing He is with us wherever we go.
Then come, let us go up to Bethel, where I will build an altar to God, who answered me in the day of my distress and who has been with me wherever I have gone. ~ Genesis 35:3 NIV
A man of many companions may come to ruin, but there is a friend who sticks closer than a brother. ~ Proverbs 18:24 NIV
David said about him: "'I saw the Lord always before me. Because he is at my right hand, I will not be shaken. Therefore my heart is glad and my tongue rejoices; my body also will live in hope, because you will not abandon me to the grave, nor will you let your Holy One see decay. You have made known to me the paths of life; you will fill me with joy in your presence.' ~ Acts 2:25- NIV
The LORD your God is with you, he is mighty to save. He will take great delight in you, he will quiet you with his love, he will rejoice over you with singing. ~ Zephaniah 3:17 NIV
Dec 19
by Victoria Robinson
There are lots of things to believe in. The Easter Bunny, the Tooth Fairy, even a rotund jolly man named Santa Claus. Yet the most important thing to believe in is really just a bunch of words. However, these are not ordinary words. These words are divine in nature and the most trustworthy things you can believe in. From these words come the ability to believe in all sorts of things. Your future, heaven, and most importantly, the creator of the universe.
To believe is to have faith. In the Greek, the word faith translates as pistis, which means to have conviction of the truth. That is where the words come in. Faith is the conviction of the words spoken by God.
The book of Romans states, "Abraham believed God, and it was credited to him as righteousness." Do you really believe what you see when you read the Word of God? Remember, the Word of God is not a fairy tale. It is instead the divinely inspired words spoken from God. The Greek word for believe is pisteuo which means: to think to be true, to be persuaded of, to credit, place confidence in.¹
We will be at peace when we come to the place in our lives where we believe, just simply believe every word we read in the Scriptures. Whether the divine words we are reading tell us about trusting our heavenly father for everyday decisions and provisions or something much loftier like a place called heaven.
The most important thing you can believe in is God and henceforth His Son, Jesus Christ. The Scriptures tell us that, "… if you confess with your mouth, "Jesus is Lord," and believe in your heart that God raised him from the dead, you will be saved." If you need to believe in Jesus Christ, click the Heaven link.  Heaven
Dearest girlfriends, I pray you would allow the words of God to be, "a light shining in a dark place, until the day dawns and the morning star rises in your hearts."
Now faith is being sure of what we hope for and certain of what we do not see. ~ Hebrews 11:1 NIV
What does the Scripture say? "Abraham believed God, and it was credited to him as righteousness." ~ Romans 4:3 NIV
We did not follow cleverly invented stories when we told you about the power and coming of our Lord Jesus Christ, but we were eyewitnesses of his majesty. … And we have the word of the prophets made more certain, and you will do well to pay attention to it, as to a light shining in a dark place, until the day dawns and the morning star rises in your hearts. Above all, you must understand that no prophecy of Scripture came about by the prophet's own interpretation. For prophecy never had its origin in the will of man, but men spoke from God as they were carried along by the Holy Spirit. ~ 2 Peter 1:16,19-21 NIV
This is a trustworthy saying that deserves full acceptance (and for this we labor and strive), that we have put our hope in the living God, who is the Savior of all men, and especially of those who believe. ~ 1 Timothy 4:9-10 NIV
"Let not your heart be troubled; you believe in God, believe also in Me."In My Father's house are many mansions; if it were not so, I would have told you. I go to prepare a place for you. "And if I go and prepare a place for you, I will come again and receive you to Myself; that where I am, there you may be also. ~ John 14:1-3 NIV
That if you confess with your mouth, "Jesus is Lord," and believe in your heart that God raised him from the dead, you will be saved. For it is with your heart that you believe and are justified, and it is with your mouth that you confess and are saved. ~ Romans 10:9-10 NIV
Enhanced Strong's Lexicon¹