Posts Tagged 'workman'
Jun 14
by Victoria Robinson
When I was a little girl I was fascinated with movies that showed old mansions with secret passageways. Even the classic board game, Clue, has a secret passageway. Wouldn't it be cool in your life if you had an escape passage? When sin is chasing you God has given you a way of escape. Through His very great and precious promises we are able to escape the corruption of this world.
This truth emphasizes the need to know and memorize the Word. Jesus did not have time to search His iPhone Bible for a snappy comeback when He was being tempted to sin. His escape passage was embedded in His heart. Girlfriends, we must be just as ready with the Word as our Lord is. We should be able to deftly handle the word of truth when sin is chasing us.
Dearest girlfriends, lets us run to the escape passageway of the Word when sin is chasing us.
A list of some common sins are listed below along with scripture you can use for an escape passage.
No temptation has overtaken you except such as is common to man; but God is faithful, who will not allow you to be tempted beyond what you are able, but with the temptation will also make the way of escape, that you may be able to bear it. ~ 1 Corinthians 10:13 NKJV
His divine power has given us everything we need for life and godliness through our knowledge of him who called us by his own glory and goodness. Through these he has given us his very great and precious promises, so that through them you may participate in the divine nature and escape the corruption in the world caused by evil desires. ~ 2 Peter 1:3-4 NIV 
Do your best to present yourself to God as one approved, a workman who does not need to be ashamed and who correctly handles the word of truth. ~ 2 Timothy 2:15 NIV 
Sep 29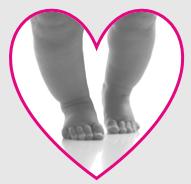 by Victoria Robinson
Spiritually speaking, whether you were born again yesterday or years ago, have you considered what your next step should be? In the 1950 classic movie, Born Yesterday, William Holden states, "Nobody's born smart, Billie. Do you know what the stupidest thing on earth is? An infant!" To which Judy Holliday responds, "What do you have against babies all of a sudden?" To which William Holden replies, "Nothing. I got nothing against a brain that is three weeks old and empty, but after it hangs around for thirty years and hasn't absorbed anything I begin to wonder about it." This is a perfect example of spiritual maturity or the lack there of. When you are born again your spiritual brain is empty. Are you a spiritual infant? This has nothing to do with how long you have had a relationship with Jesus Christ. It has everything to do with how much you have grown.
What have you done since you were born again to educate yourself in the Word of God? That is where all growth begins and continues. We must know what God wrote to us through the scriptures to be able to distinguish good from evil. It is amazing how many of us make determinations concerning God's will for our life without having scriptural proof that it lines up with what He has already told us through His Word. I love how the Bereans are portrayed in the book of Acts.  They did not simply take the Apostle Paul's word for truth. They examined the Scriptures for themselves. I don't care what Pastor or Bible teacher you are listening to or reading, you must be of noble character like the Bereans and examine the Scriptures for yourself. That is actually how I came to know Jesus Christ as my Lord and Savior. The pastor of the church I was attending said, "Don't just take my word for it, read the Bible for yourself." This was a turning point in my life as I grew up religious, but having no relationship with God, and my husband grew up in a cult. I had many different perspectives of God's Word to consider. By reading the Bible myself, I came to understand the truth about becoming born again.
Whether you have a little or much Bible knowledge, you must never stop growing. Spiritual maturity cannot be seen as a goal to obtain and then stop. As long as we are on this earth, we should continue growing in the knowledge and grace of Jesus Christ. So what is your next step going to be? First and foremost, you must read the Bible by yourself consistently. Secondly, God has given us Pastors and teachers to help us mature spiritually. Are you plugged into a solid church? Are you doing more than just attending worship services? You must take action by getting into some small groups and Bible classes. One of your goals must be to correctly handle the word of truth. Ask God what He would have you to do next. Dearest girlfriends, I pray that we would seek God's will for our next step to become spiritually mature.
We have much to say about this, but it is hard to explain because you are slow to learn. In fact, though by this time you ought to be teachers, you need someone to teach you the elementary truths of God's word all over again. You need milk, not solid food! Anyone who lives on milk, being still an infant, is not acquainted with the teaching about righteousness. But solid food is for the mature, who by constant use have trained themselves to distinguish good from evil. ~ Hebrews 5:11-14
Now the Bereans were of more noble character than the Thessalonians, for they received the message with great eagerness and examined the Scriptures every day to see if what Paul said was true. ~ Acts 17:11
Therefore, beloved, looking forward to these things, be diligent to be found by Him in peace, without spot and blameless; and consider that the longsuffering of our Lord is salvation—as also our beloved brother Paul, according to the wisdom given to him, has written to you, as also in all his epistles, speaking in them of these things, in which are some things hard to understand, which untaught and unstable people twist to their own destruction, as they do also the rest of the Scriptures. You therefore, beloved, since you know this beforehand, beware lest you also fall from your own steadfastness, being led away with the error of the wicked; but grow in the grace and knowledge of our Lord and Savior Jesus Christ. To Him be the glory both now and forever. Amen. ~ 2 Peter 3:14-18
It was he who gave some to be apostles, some to be prophets, some to be evangelists, and some to be pastors and teachers, to prepare God's people for works of service, so that the body of Christ may be built up until we all reach unity in the faith and in the knowledge of the Son of God and become mature, attaining to the whole measure of the fullness of Christ. ~ Ephesians 4:11-13
Do your best to present yourself to God as one approved, a workman who does not need to be ashamed and who correctly handles the word of truth. ~ 2 Timothy 2:15